How to plan a party like a pro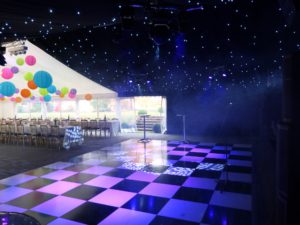 Time Marquees has been providing marquee hire in Hampshire since the 1990s, so we have more party planning experience than you can shake a cocktail at.
When it comes to throwing a party, every season has a reason. Marquee hire is popular choice for any occasion because it provides flexible, adaptable covered space suitable for a wide range of settings, come autumn, winter, spring or summer.
If you're thinking of having a party, you might be wondering where on earth to begin with the planning. There's lots to consider and it can start to feel overwhelming when it should be all about fun.
We go beyond simply offering a hire service for party marquees, we want to share our professional expertise with you to help you put on a party to remember (although some might say they can't remember the very best ones!).
Here's our party planning checklist…
Set a budget
Let's get the boring bit out of the way first, shall we? You party ideas might be unlimited but, chances are, your budget is not.
There are marquee hire options to fit budgets and parties of all shapes and sizes, including smaller pagodas, stretch tents and larger clear span marquees.
A full consultation with our marquee hire experts will help you find the best marquee for you, but we can provide rough initial estimates using Google Maps.
Exact costs will depend on your individual specifications but you can get an approximate idea here. We'll always provide a comprehensive quote with clear itemised details of any added extras you might need.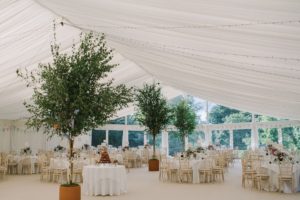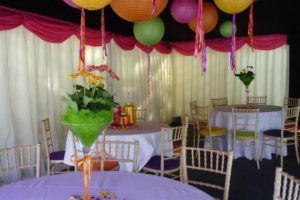 Make a guestlist
All your besties, select relatives, colleagues, gym buddies, neighbours and other acquaintances…guest lists can soon add up!
It's important to make your guestlist early on in the party planning process because it will impact what size marquee you need – and the budget, of course.
Our marquees are modular so they can be adapted to suit anything from a sit-down dinner for 80-200 guests, to less formal drinking and dining arrangements for 50-180 people (think BBQ, hog roast, wood-fired pizza ovens or street kitchen-style grub). Furniture can be supplied by us, including traditional tables, chairs, stools, sofas, glow cube seating and stainless-steel poseur tables for drinks.
Read this guide to for a rough idea of marquee sizes and how many people they will accommodate. You can usually expect 70-80% of your guest list to turn up.
Decide on a date
You can hire party marquees from us on any day of the week. Why not use social media to check which dates best suit your guests first? You may need to book the venue for a longer period than simply when the party takes place, to allow for set up and break down of your hired marquee.
Think about what the weather is typically like at your selected time of year and how it could influence your party 'vision'. Marquees from Time Marquees are suitable for all weathers, and we can talk you though seasonal considerations such as heating, lighting, ventilation, and flooring.
Lighting options include a night sky of fairy lights, disco balls, water lights, uplighters, and hanging lanterns – to name but a few.
Choose your location
Some people choose their party location based on a theme, or because it has sentimental meaning to them; others because it's a convenient postcode for guests – perhaps within easy reach of public transport. Whether you're throwing a party at home or away, ideally, it will tick all boxes.
The beauty of marquee hire is that it works in just about any location, even awkward spaces. Our experts will visit your venue to assess the setting and help you map it all out. We can incorporate your chosen location into the overall plan.
For example, a marquee with clear or open sides makes the most of the view, foliage and other features bring the outside inside, and flooring genius makes uneven ground level and ready for dancing feet.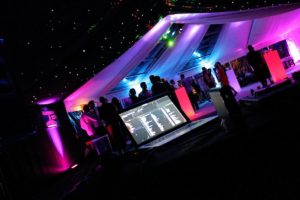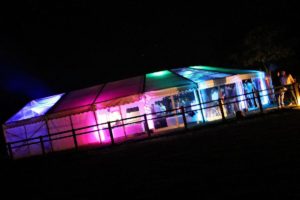 Pick a theme/style
Masquerade ball? The golden age of Hollywood? 70's retro? Crazy carnival? Colourful circus? Once you let your imagination go wild, party theme ideas seem endless (but we can inspire you if you're stuck). Marquees provide a backdrop with the scope and flexibility to showcase almost any type of theme – or just some carefully curated colour schemes and décor if you prefer to keep things simple.
We have over 20 different colour 'swags' to choose from (these go where the top of the marquee walls meet the bottom on the roof), to add the right splash of colour to your marquee.
Entertainment – themed or not – will play into the overall style and layout of your marquee party. Small string quartets, DJs and jugglers may not need much space, but most performers will need a platform on which to shine – and Time Marquees can help get the show on the road with stages (and dancefloors!).
Why not choose food and drink to match the 'flavour' of your party? Tell us what your plans are so that we can co-ordinate with caterers and provide additional covered space for food preparation, as well as a variety of bars to suit both extravagant and more modest budgets.
Now that you know how to plan a party like a pro, you can look forward to the occasion with confidence.
Reliable marquee hire in Hampshire and surrounding areas
Time Marquees is a well-established, family run business providing marquee hire in Hampshire, Berkshire and Surrey. Talk to us about high-quality marquee hire for your party! We also supply wedding marquee hire and corporate marquees for a range of corporate events.