Reasons to hire a marquee for your spring or summer garden party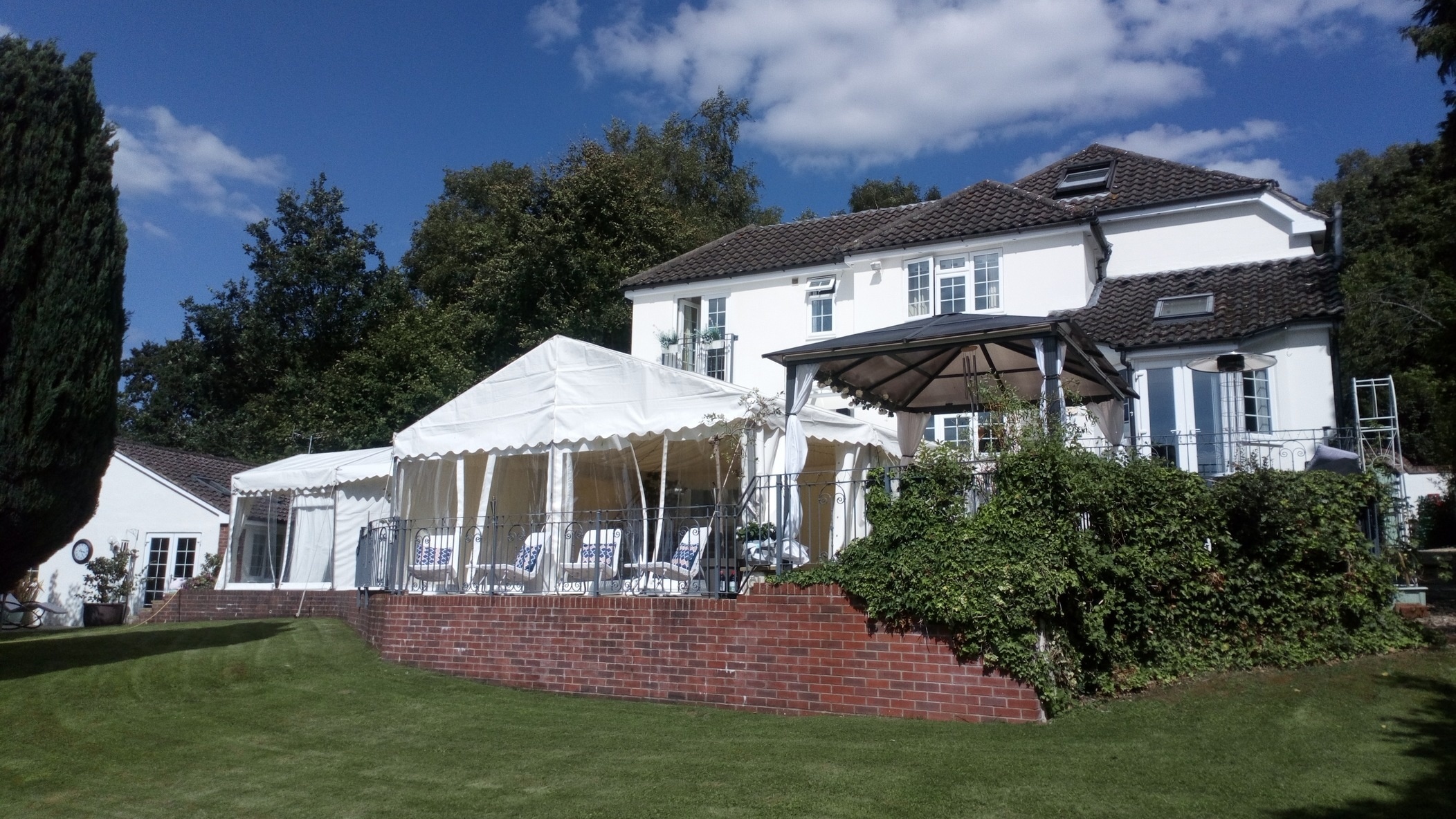 As we swap bobble hats for sun hats, slippers for flip flops, and cocoa for choc ices, we're dreaming about parties, aren't you? Spring and summer puts everyone in the mood for a get together, be it for a birthday, an anniversary, or just for the heck of it.
Whilst you certainly don't need an excuse for a party – you do need a venue…and it might be closer than you think. You might even be able to see it out of the window right now. Yes, your own back garden could be the ideal location for your forthcoming knees-up
Marquee hire for summer garden parties has miles of practical perks and acres of possibility. Now that we've planted the seed in your mind, let's take a stroll through just a handful of the advantages…
More room to celebrate
When Uncle Nigel gets his party shoes on, there better be room to groove. What you might once have lost in breakable heirlooms or freshly-planted begonias, marquee hire wins you back in terms of space.
Marquees can be used to extend limited indoor space into your garden areas – or keep the party entirely 'outside' with comfortable undercover areas suitable for dining, relaxing or dancing.
Our family-run marquee hire company has been getting creative with space since the 1990s and we'll visit your home to find savvy solutions to even the most awkward of layouts, working around ponds, paths, patios, statues and shrubs.
Homes, gardens and parties come in all shapes and sizes and luckily so do our marquees, which are modular in nature: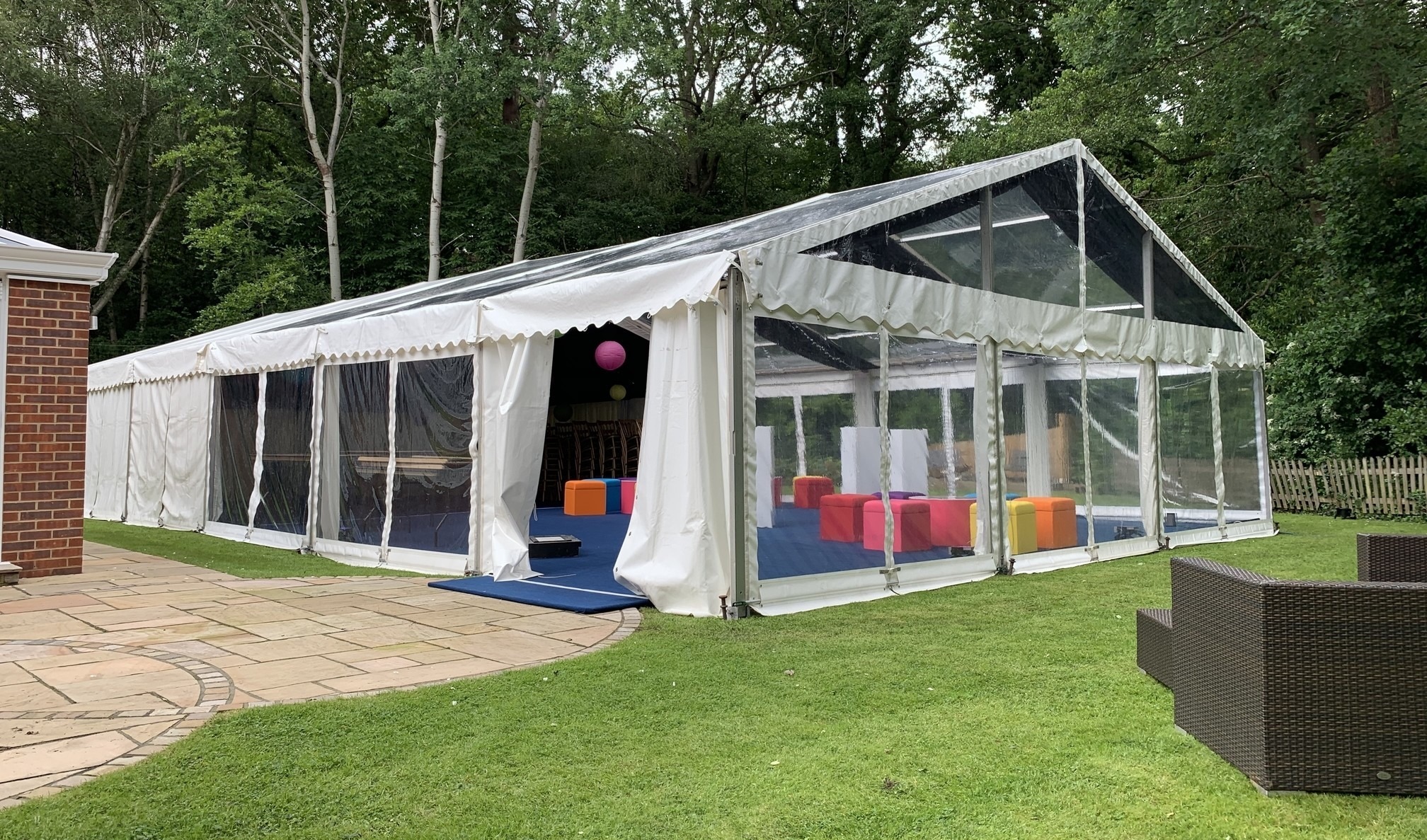 A chance to show off your blooms (or not!)
Is your social media feed a cornucopia of floral delights? Are you an avid viewer of BBC Gardener's World? Perhaps you've even got some rosettes in your shed.
Don't hide your horticultural light under a bushel! A garden party provides an opportunity for your nearest and dearest (…or those neighbours you're competitive with) to see the fruits and flowers of your labour as they sip upon their Chablis and try to conceal their envy behind a sausage roll.
Hiring a marquee with open or transparent sides will give party guests spectacular views of your amazing garden. Stretch tents are one example, for which we can provide long tables in a Mediterranean-style dining arrangement. Let the sunshine in!
This garden party idea might turn the less green-fingered among you into shrinking violets. Don't panic, we can also supply marquees that make the most of any outdoor space you have, whilst disguising a multitude of gardening sins.
Distract from wayward weeds with and boisterous beds with a wacky theme. You can also hire marquee flooring from us, so nobody will know it's been ages since you got the mower out.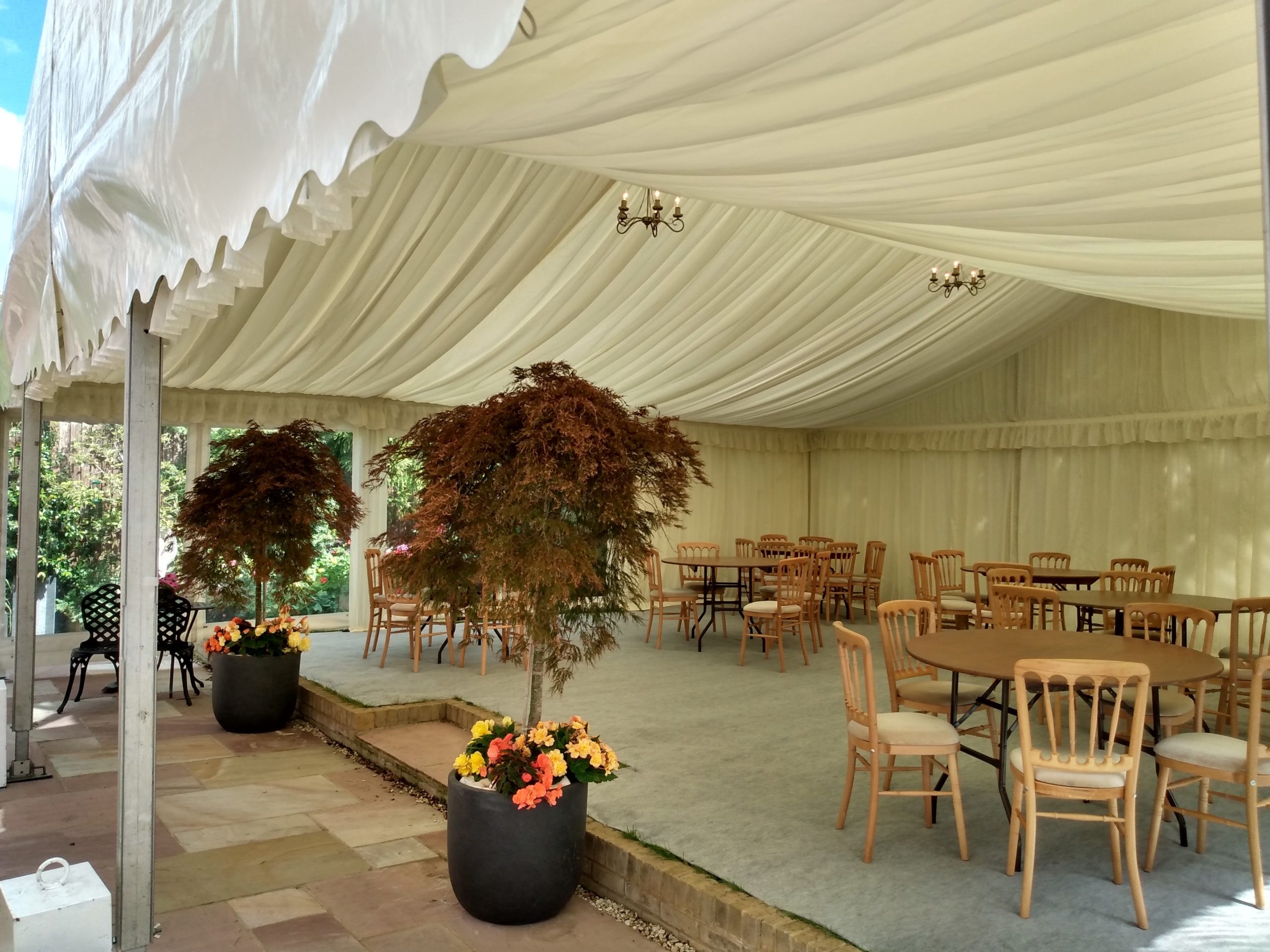 Rain won't stop play and you'll be toasting, not roasting
One the most common reservations we hear when it comes to garden parties is the weather. The British spring and summer can bring heavy rain or sweltering sun and it might be tricky to plan your party around unknown skies – unless you hire a marquee.
All the structures available from Time Marquees are 100% waterproof and can withstand rain, wind and hail. Our marquee experts will keep a close eye on the weather forecast and adapt your marquee as necessary. If you have any unforeseen issues on the day, we are available on a 24 hour call-out.
For example, if high winds are predicted we would recommend for the marquee to be closed up with no sides open to ensure the marquee is secure. If you opt for clear sides then guests will still be able to see your garden, if you wish. Heating is an optional extra, conveniently and automatically controlled by a thermostat.
With rain comes the possibility of the ground getting a little soft under foot, so we can provide plastic event flooring to go under a carpet. A boarded floor will level up the ground further still, preventing water flowing in from uneven garden surfaces.
Hosts keep their fingers crossed for fine weather, but a heatwave can push party temperatures to potentially uncomfortable levels. A marquee will give your guests plenty of cool and shady areas in which to socialise. Our tents are white so they reflect the sun – but we can also supply fans if needed.
The sides of the marquee can be open or closed depending on hot it stays once the sun goes down and how much airflow is required. Fire pits can be supplied for outside areas and create a magical atmosphere after dark.
Water resistant lighting is available from us, too.  We can illuminate entry and exit points, as well as pathways to car parking areas and loos. Uplighters among the trees make for an ethereal ambiance, as do LED fairy lights/candles which are safe and weather-proof.
Ready to plan your garden party? Time Marquees has over 20 years' experience of supplying year-round marquee hire in Berkshire, Hampshire and Surrey. Call us on 0118 973 6444 or email sales@time-marquees.co.uk to discuss your garden party marquee hire requirements.