What size marquee do I need?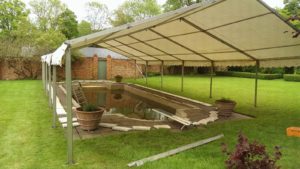 So, you've decided you want to hire a marquee for a wedding or party. Great decision! Beautiful and practical, there are so many reasons why marquees make the ideal canvas for your event.
Your next question is probably going to be, "What size marquee do I need?"
As an experienced, family-run marquee hire company, we've been providing marquees for weddings, parties and other events across Hampshire, Berkshire and Surrey since the 1990s. Most of our initial conversations with keen wedding couples and eager party hosts start with an outline vision for how they want to the event to be. They all want to find a marquee big enough to fit those ideas, making marquee size a major consideration.
If you use the marquee hire services of Time Marquees, we'll always consult with you and visit your site for a recce but here's some general guidance on marquee sizing to suit some common wedding and party elements…
Sit down dinner
Tables adorned with exquisite floral arrangements. The finest silver. Heritage crockery. Napkins starched to sophistication and candles all a-glow. A sit-down meal is always a special way to mark an important occasion.
A fully seated dinner usually requires wedding-style marquee arrangements, even if it's not nuptials you're celebrating. Marquees are modular, we can adapt them around your number of guests. As an approximate size guide:
80 guests seated – 9 x 15m marquee
100 guests Seated – 9 x 18m marquee
120 guests Seated – 9 x 21m marquee
150 guests seated – 9 x 24m marquee
200 guests seated – 12 x2 7m marquee
Your preferred style of furniture will impact on space. For example, trestle tables are very popular but a standard version can really only seat a maximum of 6 guests, so you may need a bigger marquee to allow catering staff to serve your guests without any trips or spills. Nobody wants the seafood starter on their fresh blow-dry, especially not at the top table.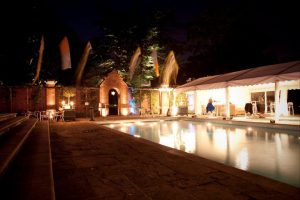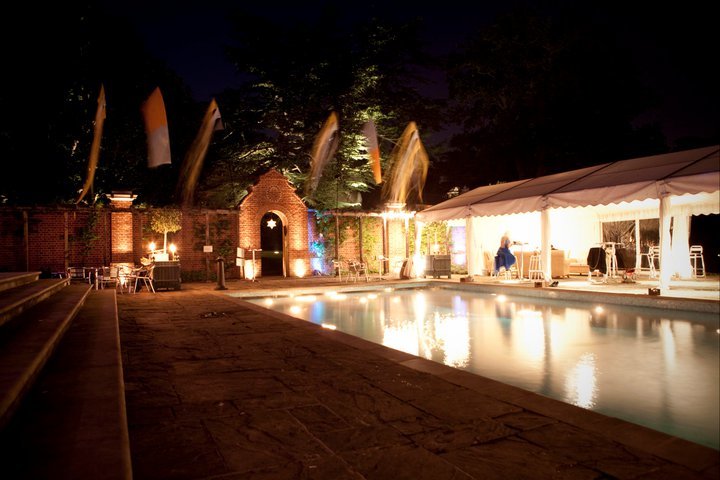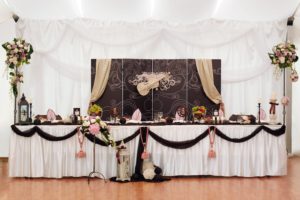 Buffets, BBQs and hog roasts
We can picture it now (and it's making us hungry) – a flavoursome feast, piled high…at least until everyone's gone back for seconds, or thirds. A 'help yourself' smörgåsbord is the ideal way to feed your wedding or party guests in a more casual way.
BBQs, hog roasts, street kitchen-style food and pizza ovens have also become popular catering choices for those who don't want a traditional sit-down meal.
Remember that your caterers are one of the most important guests at your wedding or party, so you will need to allow extra space for their staff and equipment. We can erect a bay on the marquee, not visible from the main space but easily accessible to the caterers. Alternatively, we can place a separate catering tent (for an example a 6m x 6m is a popular size for catering up to 150 guests).
Wedding and partygoers will still want to find a perch upon which to nibble, so please talk to us about casual seating for inside or outside your marquee e.g. small tables, chairs, benches, sofas.
Bars and drinking
Most celebratory events involve a tipple or ten, so when asking, "What size marquee do I need?" what you might actually want to know is, where is all the champers going to go?
Space for a bar will need to factored into your overall marquee layout. If you want to keep it as simple as a vodka on the rocks, we can supply a trestle table for use as a bar. This takes up minimal space.
A bolder bar arrangement would need 1-2 additional 3m bays of marquee space. A major advantage of marquee hire is its flexibility, whereby modular structures can be adapted and 'mixed' to suit your plans – because some of us like a Mojito, some of us like a Dry Martini, and some of us like an Old Fashioned, so to speak.
If there's no space required for dining, the following guest numbers should fit into marquees as follows (also allowing space for a dance floor):
50 – 60 guests – 6 x 9m clearpsan marquee with 12'x12'
75 – 110 guests – 9 x 12m clearspan marquee with 15'x15'
110 – 150 guests – 9 x 15m clearspan marquee with 15'x21'
150 – 180 Guests – 9 x 18m clearspan marquee with 21'x21'
Entertainment and dancing
Rocking and rolling, jumping and jiving, singing and dancing – space to let loose is a party prerequisite.
Normally, you would need to add an additional 3m bay as a minimum to accommodate a band any larger than a two-piece, where as a DJ tends to take up a lot less space and can normally fit their equipment onto a 6' trestle. We always advise to check requirements with your band/entertainment provider, and we'll work around those.
Keeping the entertainment a surprise is easily done with a 'reveal' curtain which can then be lifted for the grand reveal. Ta da!
The 'boring' stuff
Even in summer, there is the chance of rain. In the colder months, every guest will bring with them a big coat. Consider a little extra space for coat rails and umbrella racks. Pagodas make excellent entrance points and they work well for smoking areas too.
We understand that you'll want to invite all your favourite people to your wedding or party, but still also stick to your budget. Our team can work our magic to get the best out of the space available but our powers are not infinite, so for health and safety reasons you might have to scale up your plans or downsize your guest list to fit capacity.
From bucking bronchos, to covered ice rinks and swimming pools, we've got the expertise to design party or wedding marquee hire around your event, including additional services such as lighting, heating, flooring, furniture and luxury loos.
Ask us "What size marquee do I need?" and all your other marquee hire questions by calling 0118 973 6444 or email us at sales@time-marquees.co.uk