Transforming everyday spaces: how to throw an impressive party in your garden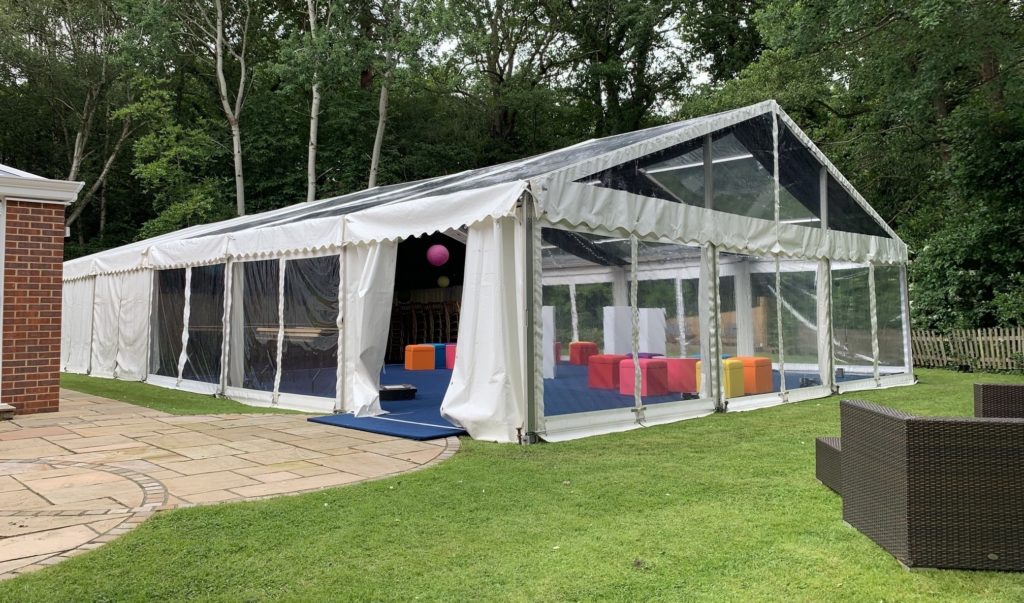 When planning a party, it can be difficult to find the perfect location. That stunning hotel you've been considering with manicured gardens is perfect… but can be out of your price range or fully booked. Your local village hall is in a great location and well within budget… yet just doesn't deliver the wow factor you're after. So, we've got a brilliant suggestion a bit closer to home – your garden. Experts when it comes to transforming everyday spaces into something phenomenal, Time Marquees has solutions for spaces and budgets of all sizes. Hear us out…
Decisions, decisions
Marquees can turn the dullest of locations into something great, but first of all, there are some practical decisions that you need to make such as these:
Where is your marquee going to be located in your garden? Will it be on the grass or your patio? Do you want it to connect to your home, creating a seamless link between the two? What challenges does your garden present?
If you plan on having the marquee on the patio, just bear in mind that it will need to be secured with weights rather than a stakes (for grass) which will cost a bit more.
Bringing in the experts to survey your garden will ensure you understand both the challenges and opportunities of your space. For example, if you have a sloping garden or large trees you may not consider your garden suitable for a marquee, but we can find solutions
Once these important decisions have been made, you can start planning the fun stuff and choose what kind of style you're after for your garden  party.
What's your party style?
Looking for a modern and trendy option? With our blackout linings, we will convert your marquee into the exclusive private party you've always wanted – your guests and Instagram followers would never imaging it was your back garden!
Continue the club theme and hire a DJ, dancing the night away on one of our provided dancefloors. Options include wood or white and black for ultimate style. To really wow your guests we have a variety of lighting solutions to offer, effects such as a starlight night sky which can be placed in the roof of your marquee for a magical, twinkling effect. Alternatively, our colour-changing LED uplighters or disco lighting ring may be more up your street.
Last but not least… what does every nightclub have in common? Drinks! We can provide a variety of bars from rustic to LED and poseur tables (high cocktails tables).
Something more casual…
If you'd rather host a party with a laid back feel, consider a pagoda or a stretch tent.
Both pagodas (or a witches hat as they can also be known) and stretch tents can look impressive. Our smallest stretch tent is 7.5x10m and fits in most gardens, creating a fantastic cover for the ultimate chilled do.
Sticking with a boho feel, your marquee can have a clear roof or sides to show off your garden and bring the outside inside. If you still don't feel close enough to nature, then you can even opt for no sides at all and hire additional foliage/trees from your local garden centre to place inside or outside your marquee.
Using lighting to create the right ambience is easy and something you can do yourself. Hanging lanterns around your garden will set the mood you're after and they can be purchased in a variety of colours and sizes. These can be found with or without lights or you can buy little battery powered clip lights – or we could do the hard work for you and install the lanterns with a bulb to light up your garden. Festoon and fairy lights can also help create a dazzling look for your garden.
At this point your garden is going to be looking pretty breathtaking and you want to make sure that your guests can take it all in. Although seating is recommended at all parties, we would more so suggest that for a casual event you provide seating so your guests can sit back and enjoy the surroundings. Whether you want casual seating or fully seated, we have a variety of options we can show you.
Transformation – complete!
These are only a few out of hundreds of party ideas we can cater for. Our main focus is to provide the best service and experience possible to our customers so if you have an idea in mind of what you want, let us know and we will see what we can do. Meanwhile look at what party packages we have to offer.
Time Marquees are marquee hire experts covering Berkshire, Hampshire and Surrey; we bring your garden party ideas to life. Call us on 0118 973 6444 or email sales@time-marquees.co.uk