Creative wedding marquee decoration ideas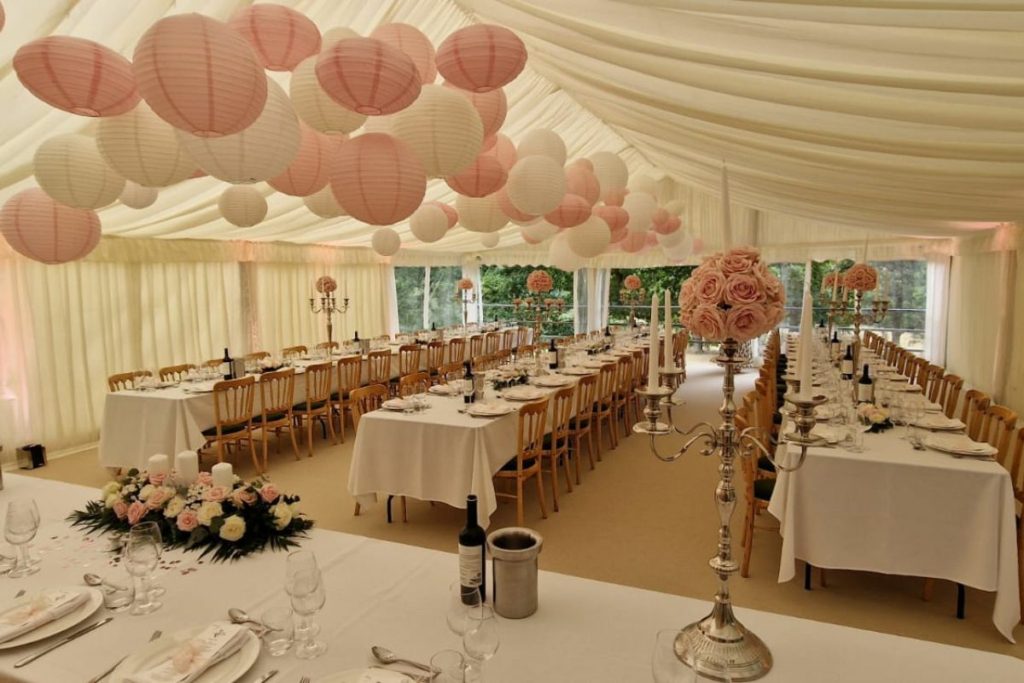 Summer is still the most popular time of year for weddings. Long warm days and balmy nights make outdoor settings an appealing wedding venue for celebrations – and there are plenty of  creative wedding marquee decoration ideas to play with.
Marquees are ideal for outdoor weddings because you get to enjoy all the joys of summer in comfort. Because, when Mother Nature is one of your wedding guests, you never really know what 'gifts' she'll bring along in the form of the weather…
Time Marquees provides all-weather frame marquees that allow you to blend the beauty of the field, farm or garden around you with some cover from unexpected rain, blistering sun or a too-keen breeze.
Not only that, but a marquee also provides a blank canvas upon which to put your own stamp, because you can do as little or as much to them as you like on your special day. They can tick as many style boxes as practical ones.
That blank canvas can be as daunting as it is exciting if you are stuck for décor ideas. With decades of experience in marquee hire for outdoor weddings, we're here to offer you a little marquee decoration inspiration…
Bloom, bloom, shake the room
The floral abundance of summer offers a wide variety of options for marquee wedding décor. Darling delphiniums, ravishing roses, lush lilac and handsome hydrangeas are just a few of our favourite picks. Don't forget that cuttings from trees, shrubs, herb gardens and vegetable patches can all be incorporated too.
Using large vases with a beautiful array of colours against the ivory wall of the marquee will look stunning. Potted plants can be kept afterwards, and herbs will add fragrance as well as visual impact.
But don't confine your florals to a pot or vase! Marquees have the advantage of lots of places from which to hang gorgeous garlands and bountiful bunches. You could go from the centre of roof down to the top of the marquee sides, or up and down the walls. Go wild!
Buy large florist rings (or even hula hoops) to decorate with foliage and then ask us to supply hanging points from which to suspend your masterpieces from the roof. Mini bunches have maximum impact when elegantly attached to the marquee walls.
Why not add a personal touch by sourcing flowers and foliage from your own garden, or choosing plants and flowers with meaning – such as those you might have given to each other. If you're not that green-fingered or can't tell a carnation from a carrot, ask a local garden centre what they can supply.
Neither the foliage nor the florals used have to be fresh. Some of the artificial options available these days could fool even Monty Don himself. And if you think dried flowers only belong in Gran's downstairs loo, check out the work of the floral artist Bex Partridge of Botanical Tales for bouquets that vow to be everlasting.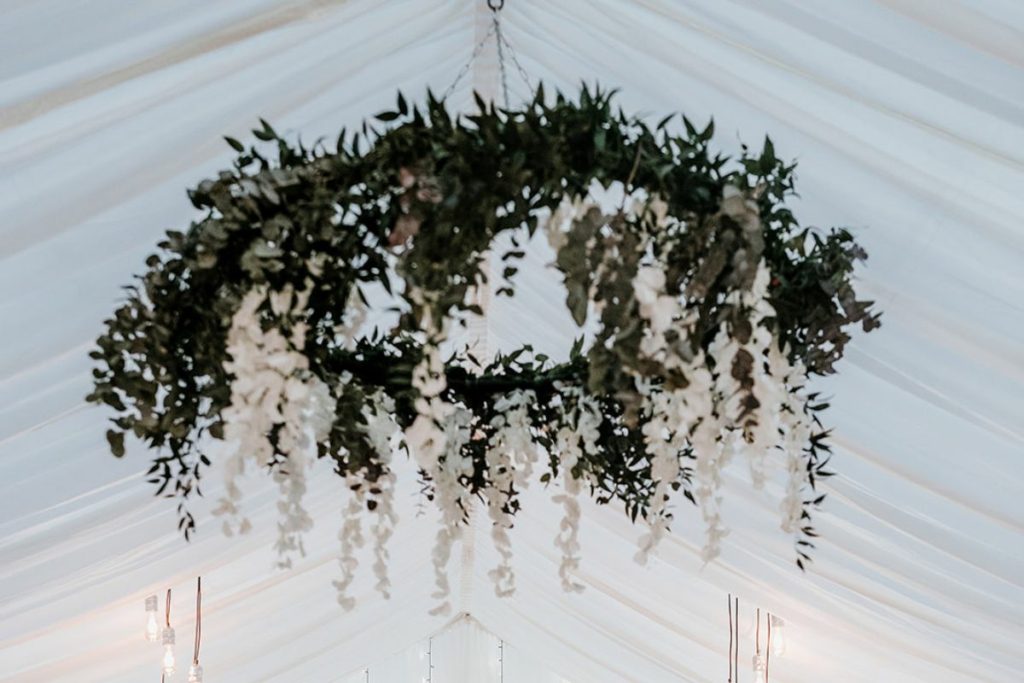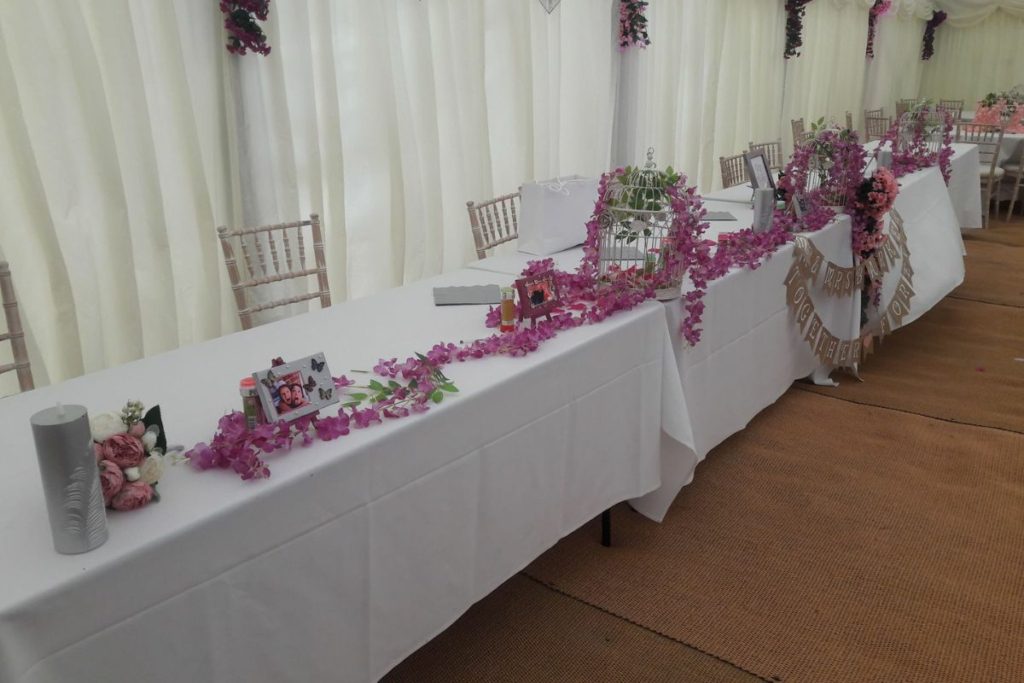 Hit the lights
A dazzling array of lighting options are available for your wedding marquee. Time Marquees offers a large variety of lighting and has the expertise to advise you on what will best suit your wedding.
Hanging paper lanterns come in a variety of colours and sizes and are a feast for the eyes. Button lights can go into the hanging lantern to add another dimension and can be controlled via a remote. We'll hang lanterns across the marquee in shades that match your colour scheme. LED uplighters can also be placed accordingly.
To help get the party started, we also offer a disco lighting set-up with gobo lights, LED pot lights (with colour change), moonflower lighting, laser lights and twister effect lighting. This option can also be used to illuminate your wedding entertainment. LED glow seating cubes, tables and poseur tables (for drinks) can also be supplied.
Chandeliers ooze sophistication with every twinkle. We can supply a chandelier to illuminate your entire marquee, as well as pin spotlights directed at each individual table, or lights that create a romantic LED ripple effect.
Last but not least, you can't beat the magical simplicity of fairy lights.  Placed against a blackout roof lining, they mimic a gorgeous night sky. The dimmer function can be used to fit the atmosphere.
DIY with the wow factor
Hand-crafted décor complements an outdoor wedding so well. Bursting with rustic charm, homemade decorations will make your wedding look and feel truly original – and are often more affordable too.
Dust off your sewing machine and make your own bunting in your wedding colours. We'll hang your lovingly created work from the marquee roof and/or around the walls and entrances. Some people like stringing it along the edges of tables too. With a little embroidery, you might choose to name your tables this way.
If you haven't picked up a needle and thread since your last textiles class at school, don't panic. Your recycling pile could well present an equally fabulous (and sustainable) wedding décor option.
Glass jars can be painted to complement your colour scheme, jazzed up with glitter, filled with battery-powered lights or hung from the marquee ceiling. One person's old pesto jar is another person's wedding treasure!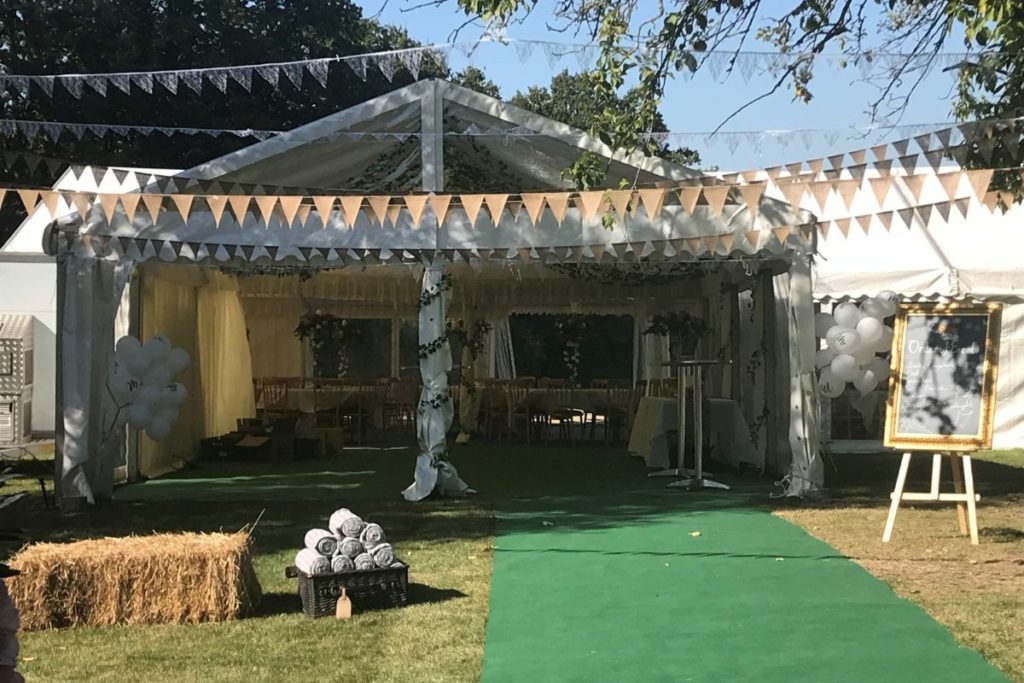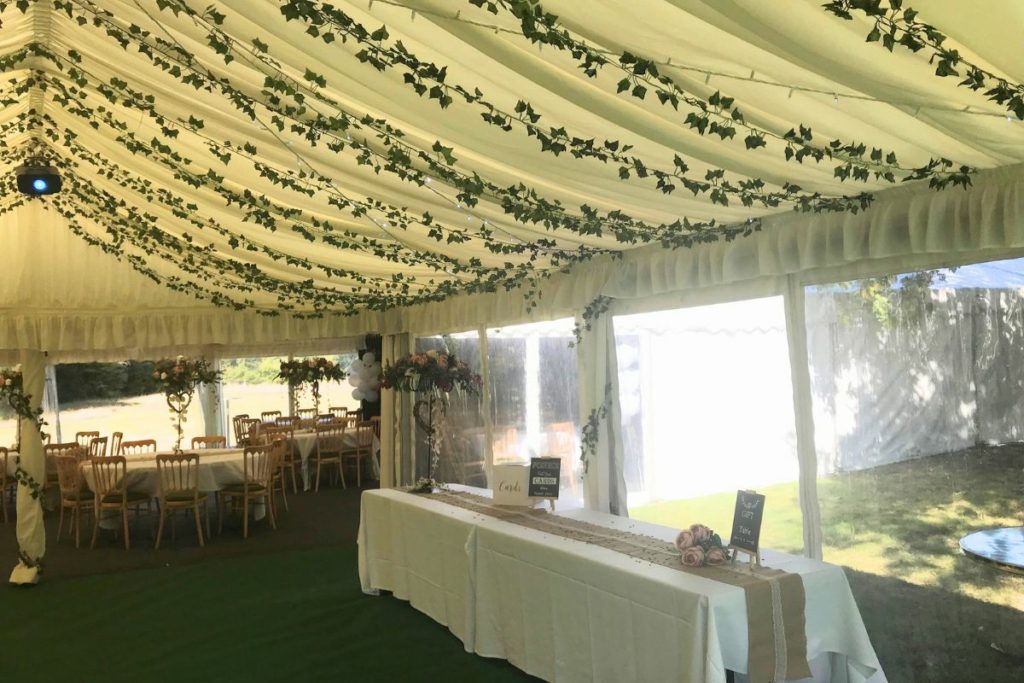 Wedding marquee hire in Hampshire and surrounding areas
Our wedding marquees are modular so they can be adapted to suit anything from a sit-down dinner for 80-200 guests, to less formal drinking and dining arrangements for 50-180 people.
There are marquee hire options to fit weddings of all shapes and sizes, including smaller pagodas, stretch tents and larger clear span marquees. We can work around outdoor features and on uneven ground.
Our friendly team will run through a full consultation with you, including a site visit. Together, we'll make your outdoor wedding vision a reality.
Talk to us about marquee hire for your outdoor wedding. We also supply marquee hire for a range of corporate and sporting events.
Call us on 0118 973 6444 or email sales@time-marquees.co.uk to talk to us about high-quality marquee hire for your garden party.