Reasons to hire a stretch tent or pagoda for a garden party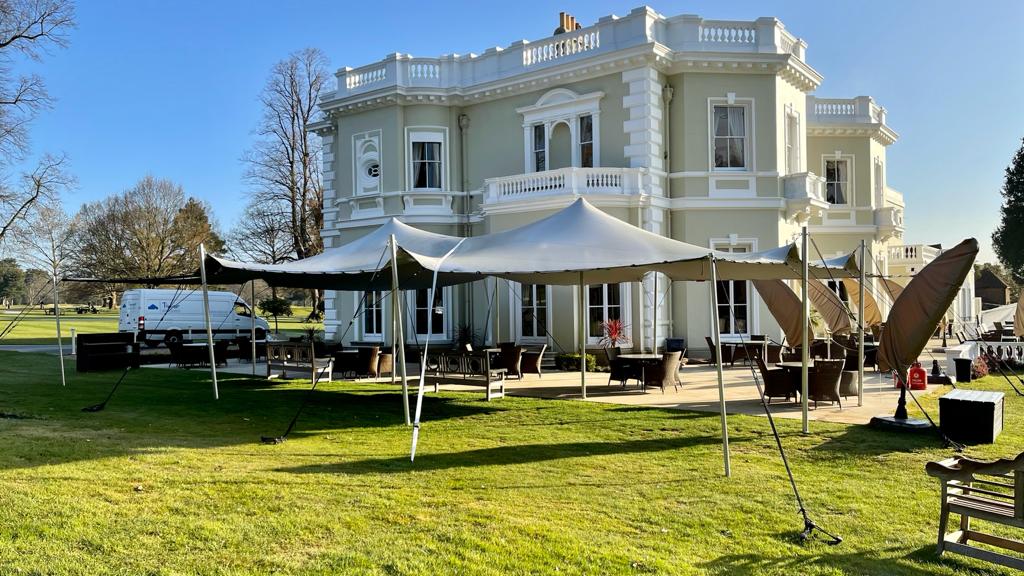 Jetwash the patio, dust off the deckchairs and fire up the BBQ because summer is just around the corner – and that means it's garden party season!
Your own back garden can make the ideal location for a birthday, anniversary or graduation party in the summer season. Understandably, you might be worried about the British weather – so marquee hire gives you the reassurance of some shelter from an ill-timed thunderstorm, or the blistering heatwaves that seem to have become more frequent in recent times.
British summers require adaptable marquees
The thing is, you never know whether British summertime is going to deliver rain or shine, do you? Which begs the question, "What type of marquee should I hire?"
Choose a traditional, closed-in style and potentially miss out on those precious blue skies overhead? But then, you don't want to be holding down a flimsy gazebo you bought from the garden centre because of high winds and torrential downpours. Sipping cocktails, dining and dancing sound far more enjoyable.
That's where stretch tents and pagodas really come into their own because they offer so much flexibility.
What is a stretch tent?
Instead of a single fixed point, a stretch tent is a freeform fabric structure that allows for a variety of configurations in terms of shape and height.
Due to their open sides, these are tents that flow with the landscape, making them perfect for garden parties.
We offer a number of size options with our stretch tents. The smallest is a 7.5m x 10m, which can fit up to 40 guests seated or up to 50 guests standing.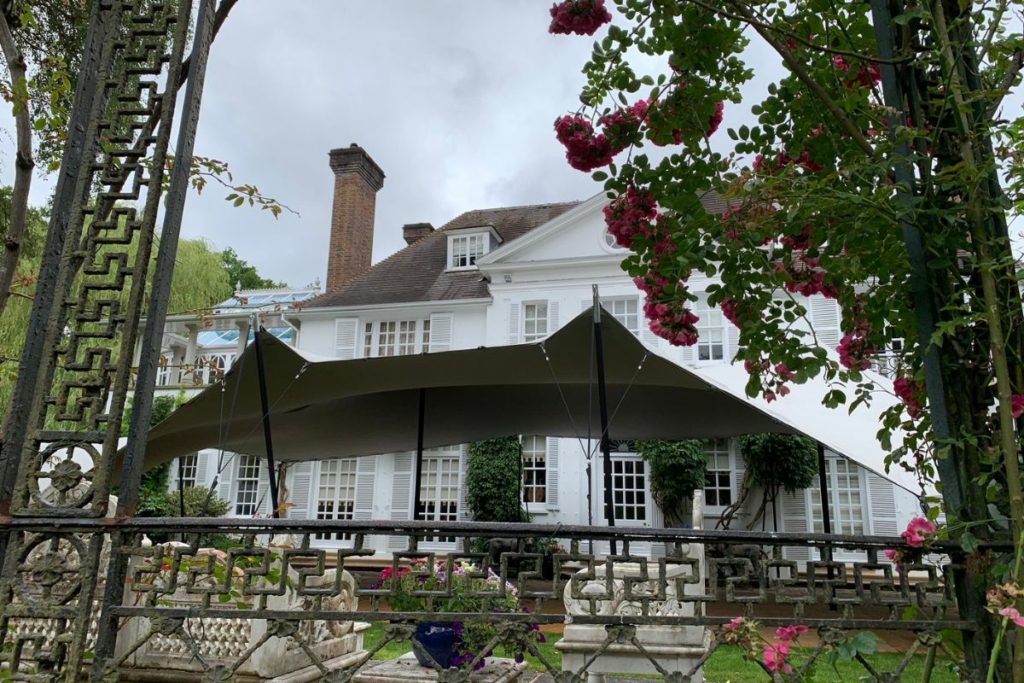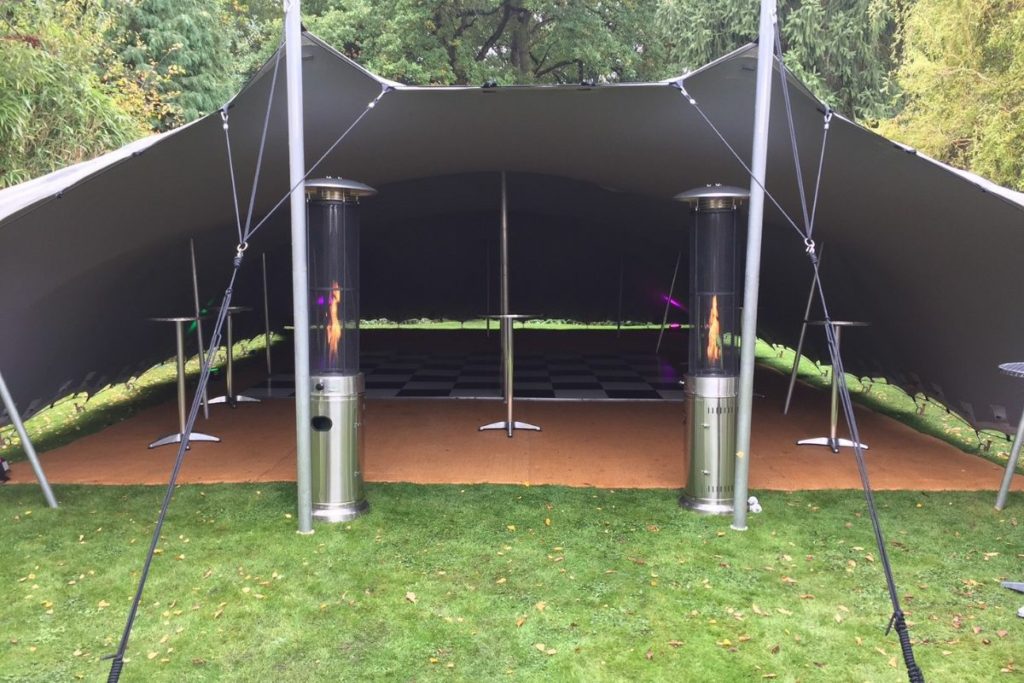 Stretch tent benefits
Time Marquees is an experienced marquee rental company supplying a range of quality stretch tent hire options for private parties across Hampshire, Berkshire, Surrey and the surrounding areas.
Here are a few reasons why a stretch tent could be suitable for your garden party…
Adapt your party space – you can wait till as late as when our team arrives to install the tent to decide how you would like it set up, so changes to your guest list won't be a headache
Choose your view – this style of marquee allows you to have all the sides up, all the sides down, or a mixture of the two, so you don't need to stress about the weather forecast
Create a stylishly relaxed vibe – stretch tents offer something completely different visually from the standard clearspan marquee, with a more laid back and rustic feel
Lighting and furniture for stretch tents
With stretch tents, you have scope for a variety of lighting options, depending on what you are using the stretch tent for and what time of day your party is happening. From simple uplighting to magical fairy lights and hanging lanterns, our creative team can advise you on what will work best for the type of party atmosphere you'd like to conjure up  – and source the lighting you desire.
A range of furniture can also be sourced from our network of trusted suppliers. The ever-versatile stretch tent can be adapted to accommodate dining tables and chairs, as well as other seating. The open sides will give an al fresco touch to your lunch or dinner, but with the comfort of cover and shade above.
If you aren't having a sit-down meal, then we still recommend hiring some furniture, for guests to place their Pimms, or take a seat.
Poseur tables are high cocktail tables, made from stainless steel with optional stretch covers in white or black, also available in a lit 'glow' version for some extra party wow-factor.
Giant bean bags, sofas and round trestle tables with chairs are also available when you hire a stretch tent from Time Marquees.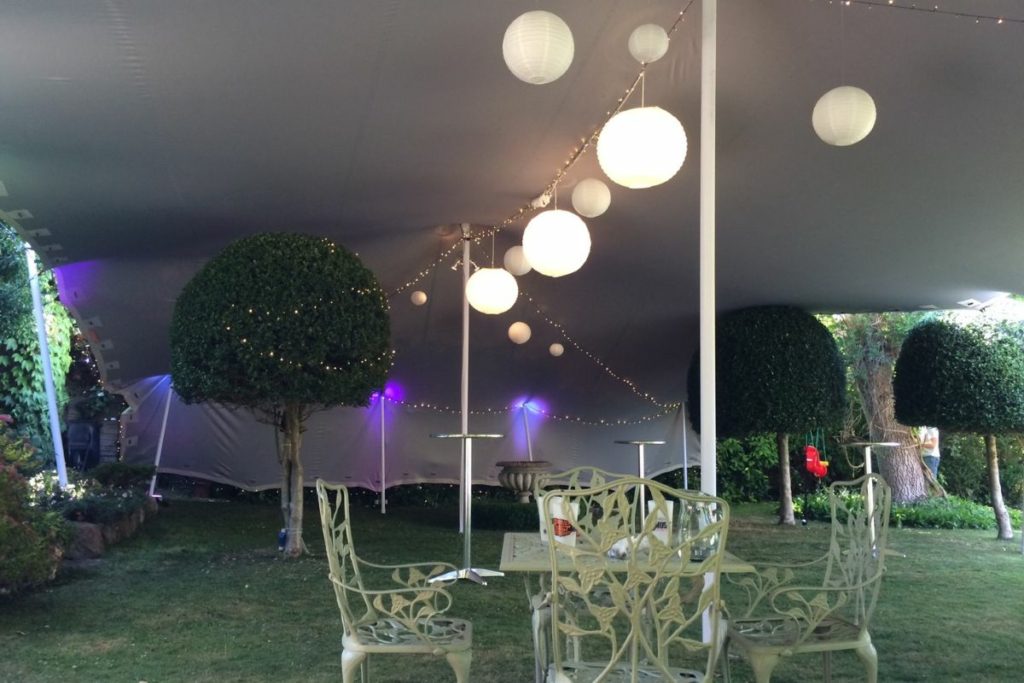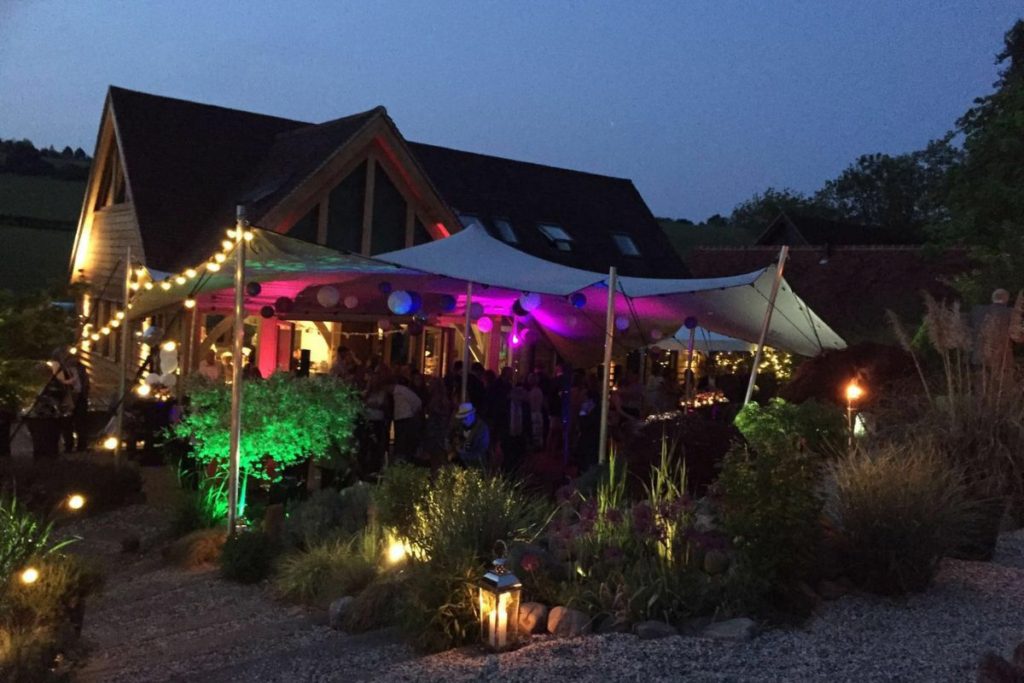 What is a pagoda?
Pagodas are instantly recognisable due to their high, peaked rooves. That's why they're also known as Chinese hats.
At Time Marquees, we have offered pagodas for hire for many years and can offer you a full range of sizes, including 3, 5 and 6 metre squares or a rectangular 3m x 5m. As a rough guide, the 3 x 3m can fit up to 10 people standing, and the 6 x 6m can accommodate up to 32 guests seated.
Pagodas are loved by our team and clients alike because of their variety of applications. Use one alone as an entrance, cloakroom or bar tent – or link them together throughout your garden to form a larger undercover structure suitable for drinking, chatting, relaxing and dancing.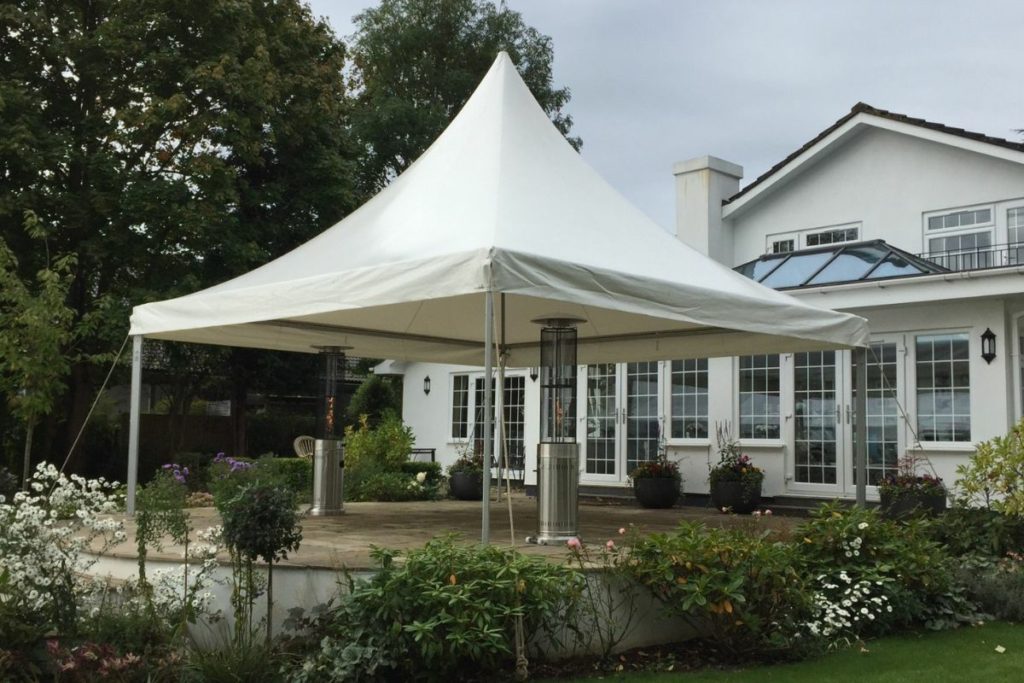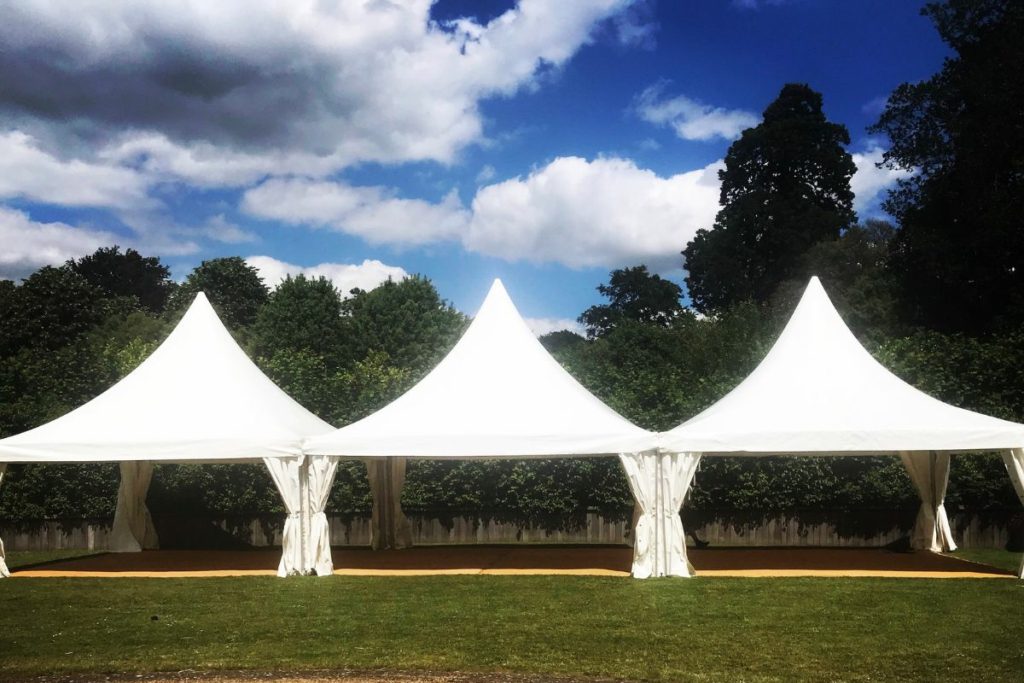 Pagoda benefits
Time Marquees supplies quality pagoda hire for parties across the Hampshire, Berkshire, and Surrey regions.
You'll love them because:
Pagodas can be arranged to offer as little or as much cover as your garden party budget and requirements demand
Their discreet and elegant style allows you to show off your garden in all its blooming glory, whilst still providing some shade and shelter where needed
Weights secure the structure (e.g. on a patio) for robust cover that's subtle and non-intrusive
Furniture and lighting for pagodas
Pagodas can be finished with a solid wood floor or carpet, elevating them above your standard gazebo.
Interior linings can be provided but many of our clients enjoy adding their own décor in the theme of the party.
As with our stretch tents, a variety of lighting and furniture is available – just let us know what you need and we will advise you.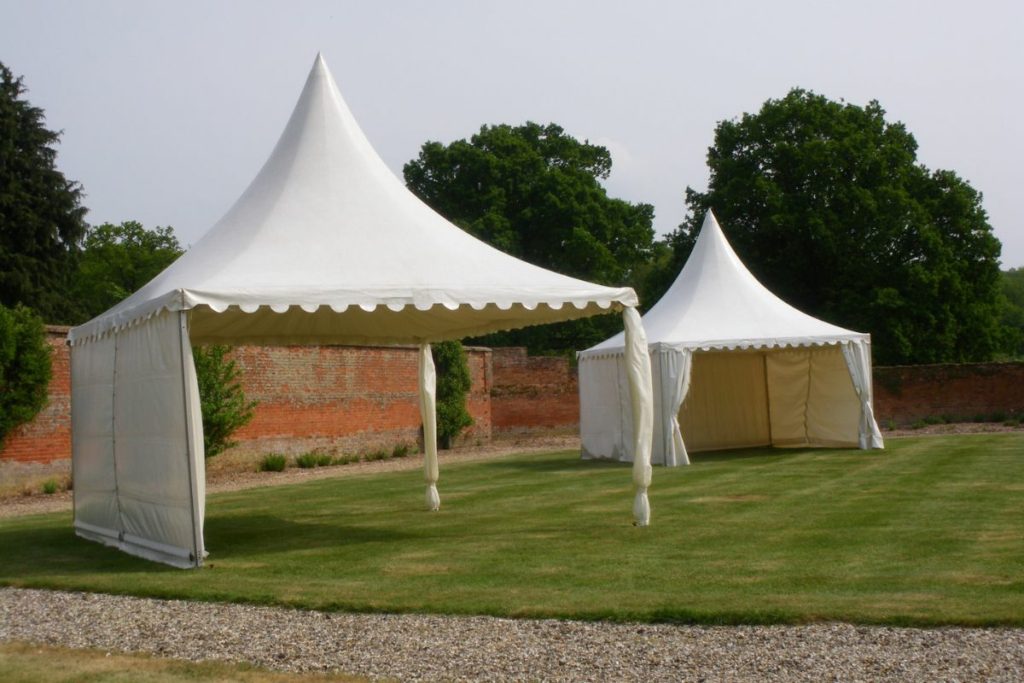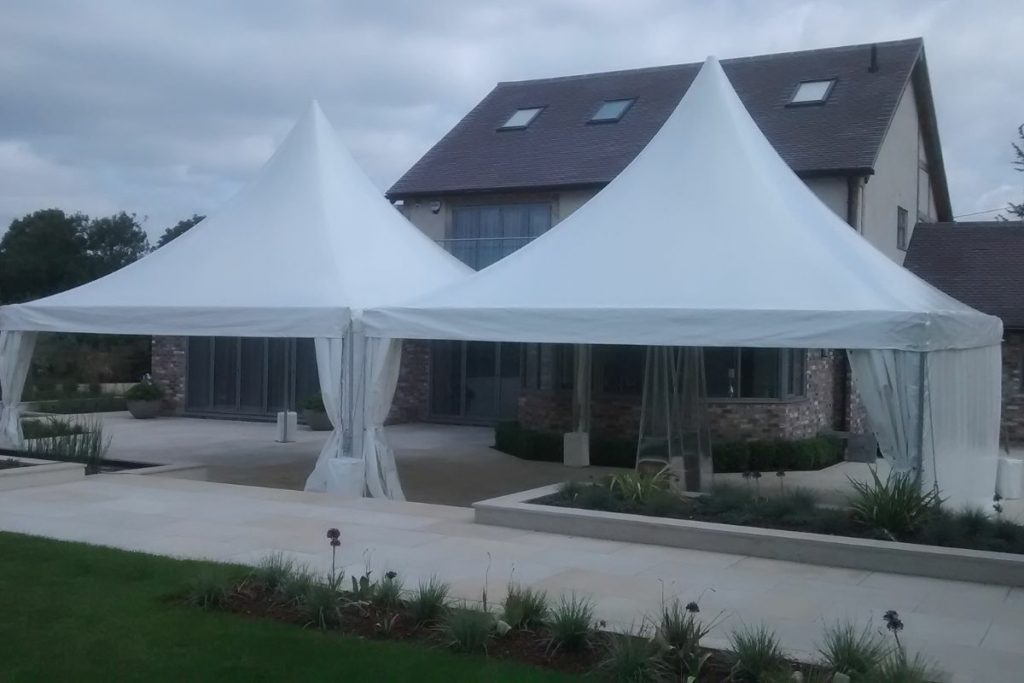 Let's get ready to plan your garden party
There are marquee hire options to fit budgets and garden parties of all shapes and sizes, including pagodas, stretch tents and our larger clear span marquees.
A full consultation with our marquee hire experts will help you find the best pagoda, stretch tent or other structure for your outdoor space. Our friendly team will visit your garden and advise ways to incorporate garden features like ponds, slopes, steps, statues, trees, shrubs and sheds.
We'll always provide a comprehensive quote with clear itemised details of any added extras you might want or need.
We recommend booking as soon as possible – an ideal lead time is around 12 weeks, but we will do our best to accommodate as best as we can at shorter notice.
Call us on 0118 973 6444 or email sales@time-marquees.co.uk to talk to us about high-quality marquee hire for your garden party.