Time to swot up on marquee hire for schools, colleges and universities

The calendar for most schools, universities, and colleges is crammed full of events – and it's never too early to start preparing for them…
Every occasion is an opportunity for your educational site to shine, showing the local and wider community why they should study and work with you. Often, these events are about welcoming new students or honouring their exam results and other special milestones.
You'll want your school, university or college event to achieve only the highest marks in the eyes of pupils, parents, and visitors…
Marquee hire – the right answer for a wide range of events in education
Time Marquees is a marquee hire company based in Berkshire. We've supplied top quality temporary structures for a range of occasions in educational settings, such as:
Summer balls, garden parties and other social gatherings

Awards/prizegiving events

Fundraisers and charity events e.g. Christmas markets

Speech days, speaker events and presentations
Working across Hampshire, Berkshire, Surrey, Oxfordshire and London, our clients include Royal Holloway University, Oxford Brookes University and a variety of independent and state-funded schools such as those listed at the end of this article.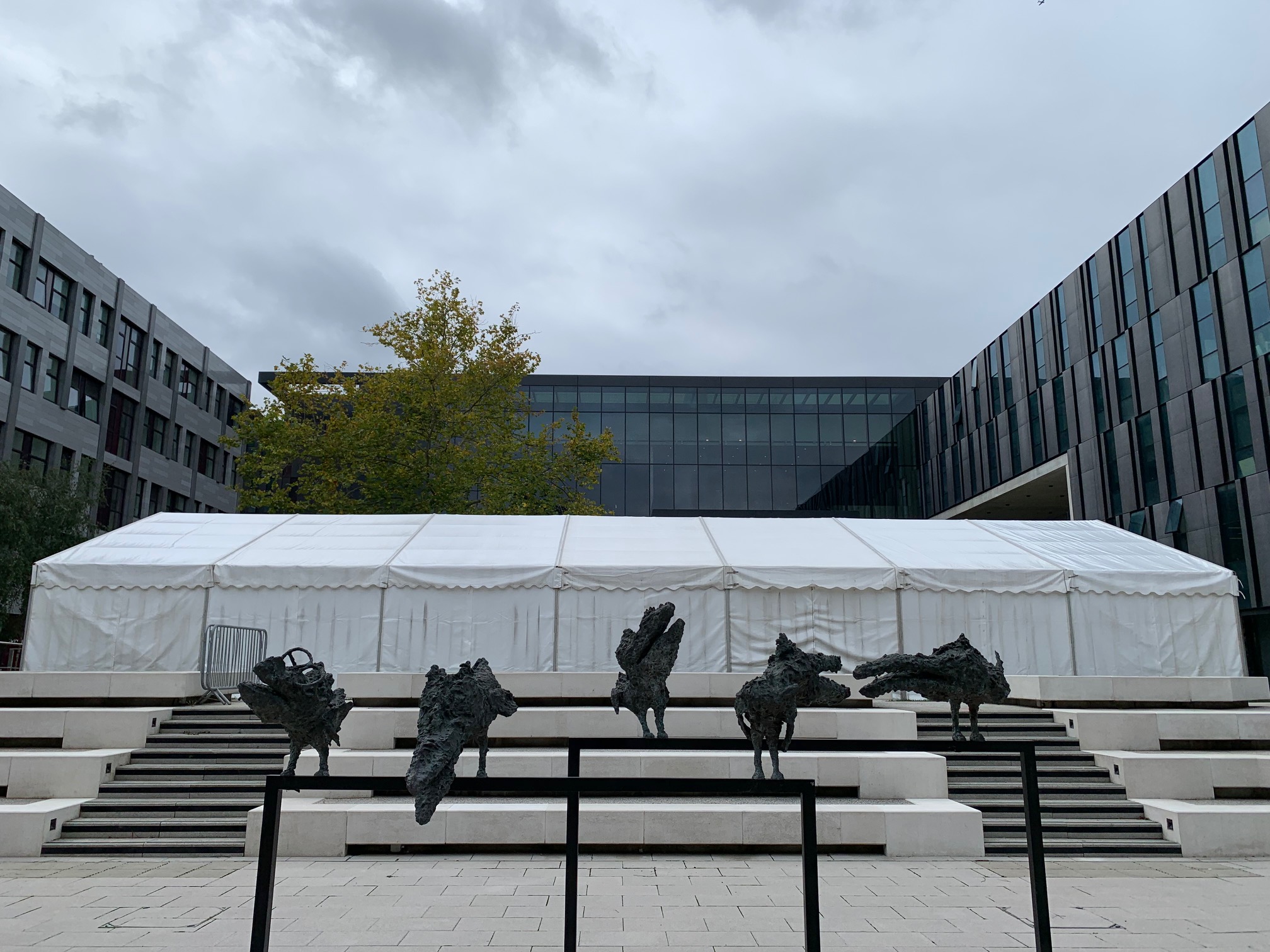 A brief masterclass on the main benefits of marquee hire for schools, colleges and universities
If your assignment is to organise an important event in an educational setting, you'll want to learn all about how and why marquees will meet your requirements.
We've been providing marquees of all shapes and sizes to colleges, schools and universities for decades – so we can teach you what you need to know, starting with a few basics right here.
Pen and paper at the ready, no talking at the back!
Lots of extra space
Throwing an event for large numbers of guests can leave you scratching your head about where they will all fit. Ideally it will take place at your school, college or university rather than hiring a costly and unfamiliar location offsite. Social distancing is still encouraged, and this adds to the challenge you face.
Our marquees are modular and can be used as your main event space or for additional/overflow areas. A site visit will enable our team to suggest how best to incorporate them around existing buildings/outdoor areas, so you'll have ample room for all attendees to mingle comfortably.
We can provide additional space for a small gathering or an event for hundreds of people, making them the ideal solution for many occasions on the education calendar.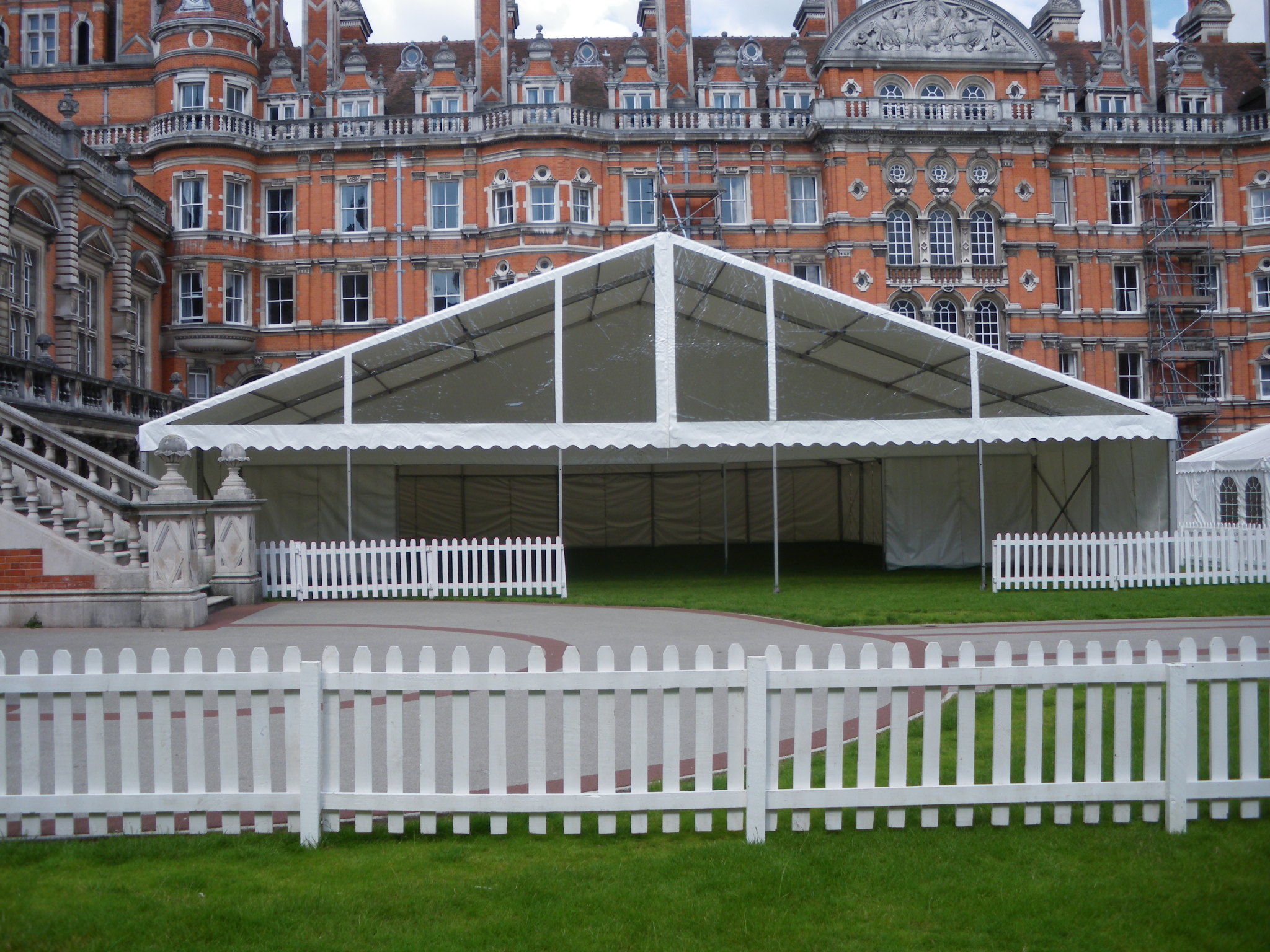 Quality fit for royalty
From clearspan marquees to stretch tents and pagodas, our marquees are made of high quality materials and maintained to superior standards.
They have a wind loading of up to 21mps, along with aluminium framework, and are made of much heavier duty 650g PVC material than most. We also use stronger earth anchors and a wall and roof bracing to achieve above average loadings.
Time Marquees is a supplier to The Crown Estate, having supplied marquees to locations such as Frogmore House and Windsor Castle. In 2022, we'll be involved with a 40th anniversary service to commemorate the Falklands conflict, to be held at The Falkland Islands Memorial Chapel at Pangbourne College.
A grand event is anticipated, which in previous years has been attended by Her Majesty Queen Elizabeth II.
Practical magic
Perhaps your school, college or university is surrounded by exquisitely landscaped gardens and breath-taking views, or maybe it's surrounded by uneven surfaces and 'awkward' features such as car parks, fences, gates, benches, bollards and playground/sports equipment.
Whether you want to enhance or conceal elements of your site, we'll do our best to incorporate them into the overall layout – and it doesn't matter if the space you want to use is on grass or a hard surface.
If your site sits on different levels, we can raise the floor of the marquee up to create a seamless space all at one height. Marquee legs can also be extended to cover different heights.
Ponds, trees, bushes, statues and monuments can all be woven into the overall event scheme, bringing the landmarks and heritage of your site into the occasion.
Creature comforts
Some people aren't sure about hiring a marquee because they worry that the guests will be too cold or too hot. Nobody wants to see mortar boards blowing in the wind, slip on a wet stage, or sit shivering/sweating in their finest outfit or brand-new uniform and shiny shoes.
All our marquees are built to withstand year-round weather. Heating and air conditioning considerations will always be part of the brief for us here at Time Marquees, so that your event isn't ruined by the seasonal quirks of British skies.
A variety of comfortable and stylish furniture can be supplied for seating, dining and parties, along with all-important toilets!
Using our trusted network of suppliers, we can also source and provide stages, dancefloors, entertainment systems and lighting. Events worldwide have been affected by supply chain issues and we work hard with our partners to minimise this risk to you.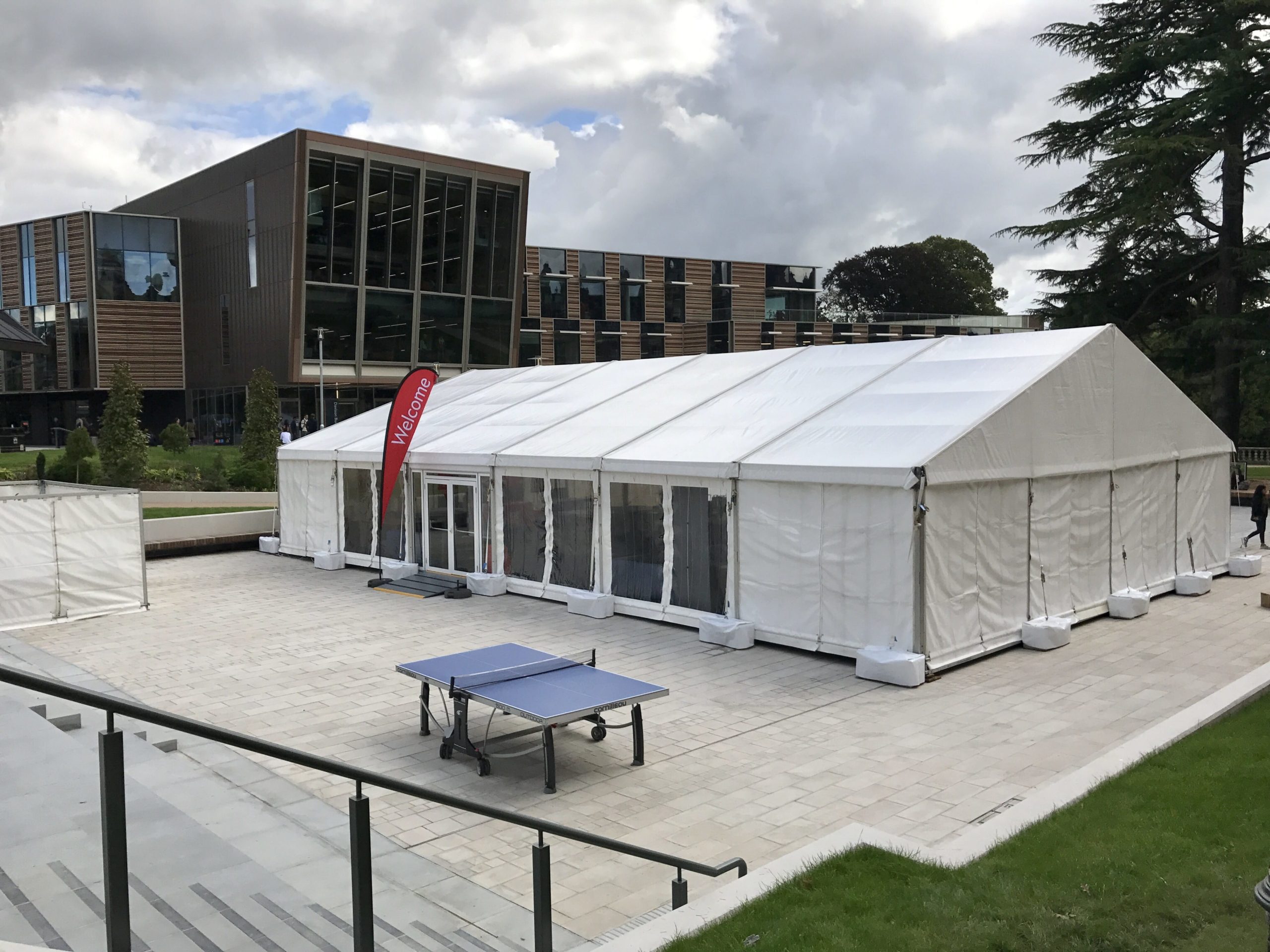 Safety and hygiene first
Schools, colleges and universities have been hit hard by COVID-19 over the past two years. We work with many education organisations, so we fully understand that your event plan has to prioritise safety and hygiene. General health and safety have always been key considerations, of course.
We'll work to your risk management requirements and conduct all site visits safely. Sanitisation and hand washing stations can be supplied for your event. Distanced seating plan advice can be given. Marquees are easy to ventilate, minimising the spread of germs.
The Time Marquees team has provided temporary structures for healthcare settings including the NHS so we have the right knowledge and skills to design a safe and hygienic marquee layout for your school, college or university event.
Keep us on your books
Many of the educational settings in our client portfolio work with us year after year, because they trust our capabilities and know how well our structures work within their site – and we become experts in their event requirements.
Want us to provide marquee hire for your college, school or university event? Get in touch with our friendly team today.