Small and socially distanced marquee weddings – your questions answered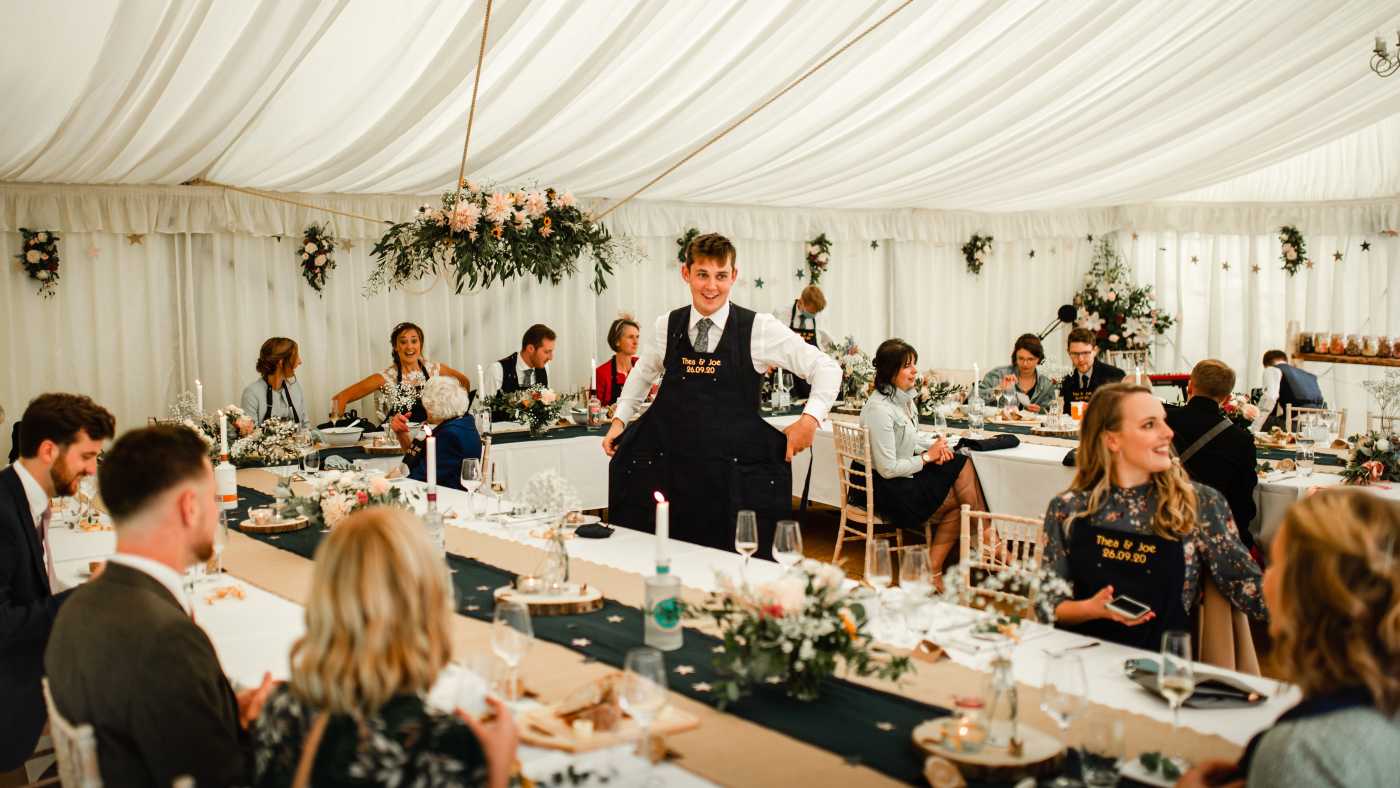 2020 isn't over just yet, but we're starting to reflect on the themes that have defined it.
When it comes to weddings, words like 'small', 'intimate', and 'family' spring to mind. 'Flexible' would certainly be another, as couples across the land have had to watch, wait, and wonder if and how their wedding celebrations would need to be adapted according to ever-changing government rules.
As a long-standing family-run marquee company, we've been providing wedding marquees across the South East since the 1990s. Not only have all those years taught us a practical thing or two about planning weddings, they've shown us how important it is to reassure and support all those nervous brides and grooms.
Through the unprecedented events of this year, that continues to be a priority for us. The weddings may have shrunk in size but the nerves have not – so we wanted to share some of the recent wedding queries we've had along with some of our advice.
How many people can I invite to a marquee wedding?
At the time of writing this blog, England has been placed into lockdown until 2 December and weddings are not permitted except in very specific circumstances. However, over the course of this year they have been allowed for up to 30 people, with social distancing and increased hygiene measures in place.
For official and up-to-date guidance on the current rules on having a wedding during the pandemic, please check the gov.uk website.
When I hire a marquee from Time Marquees, what happens if I need to increase/decrease the space and/or number of settings due to changing rules?
Don't worry, you can amend your marquee arrangements after you've booked. The beauty of our marquees is that they are modular so they can very easily be adapted as required. Just keep in touch and we'll talk you through the options.
Let's make a 'plan b' from the start if that gives you added peace of mind.
How much notice would you need to make such changes?
Ideally, we'd like to know a week before the wedding. However, in extreme cases we can makes changes up to 2 days prior. Nearly all of the equipment we use is owned by us and kept in house, which allows us to be flexible and responsive to last minute changes of plan.
True love is stronger than a pandemic and we want to do all we can to make your day run as smoothly as possible.
What about when third parties are involved?
We have a solid relationship with all our third party suppliers and don't work with anyone who doesn't have same caring nature and flexibility as we do. Leave it to us to contact them and sort out any adaptations as necessary.
If you're sourcing suppliers yourself, we encourage you to 'shop local' and help businesses in your area. From caterers to florists, there are loads of talented experts in our address book, so feel free to ask us for recommendations.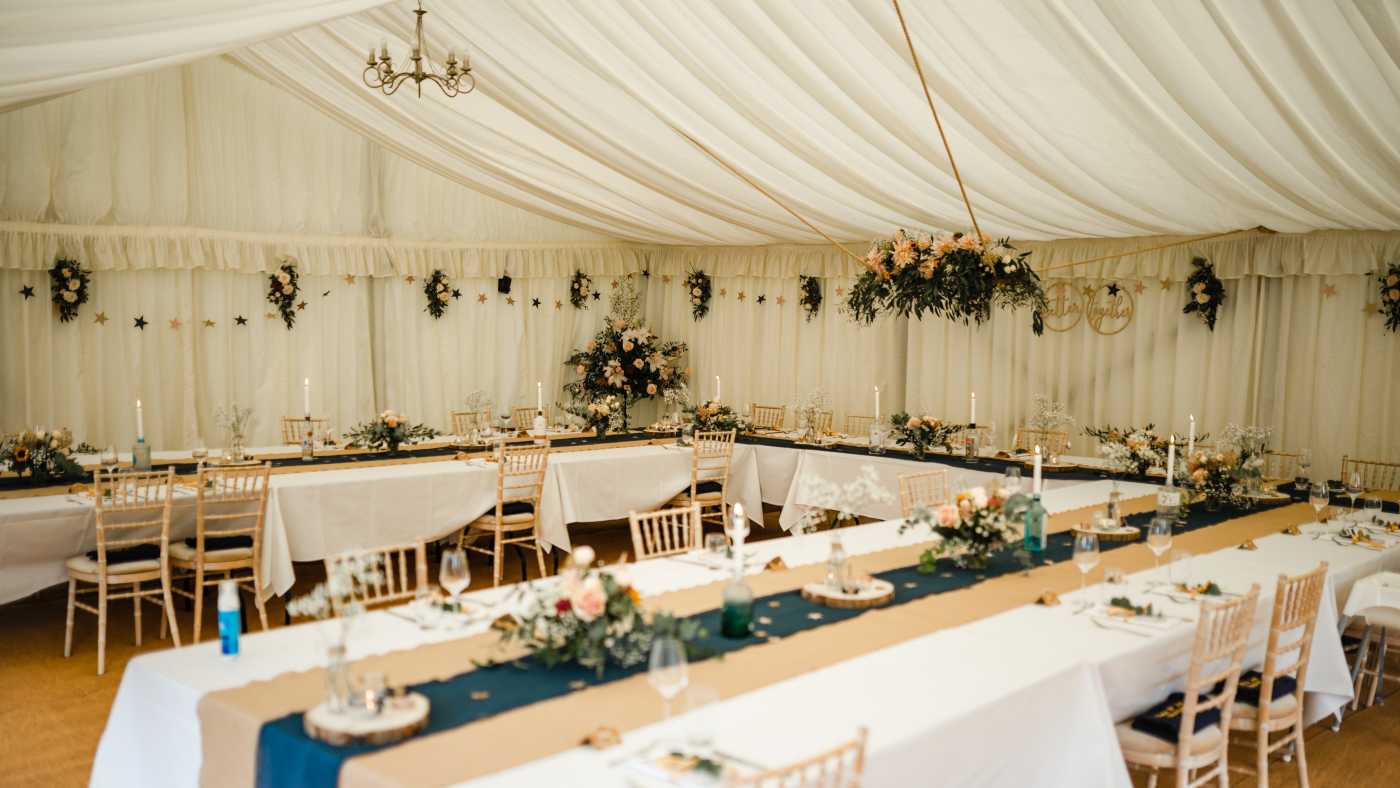 Will our guests be able to sit together?
As current restrictions ease, absolutely! We recommend going for a series of trestle tables set up in a U shape, instead of the standard 6ft by 3ft wide tables.
For one client this summer, we placed these side by side, leaving the required 6ft distance between people. Placing some beautiful floral features on the tables broke the space up. There's so much we can do with table settings to make the distance less noticeable and actually turn it into an original and attractive feature.
If you have elderly or vulnerable guests attending, there is the option to create a separate area (with clear partitions) for their safety.
How can you disguise hygiene measures so they're less obvious? We don't want our wedding to feel clinical.
Hand sanitisation points or freestanding handwashing stations can be housed in small pagodas. Undercover structures next to or around extra portable toilets will allow your guests to queue at distance for the loo without getting cold and rained on.
All these aspects can be designed to match your general wedding décor or made discreet – it's up to you. Maybe you can even make a feature out of some of the hygiene aspects. Personalised hand sanitiser bottles as favours, or face coverings created in wedding colours are just two ideas.
Can we have music and a dancefloor?
Once weddings are allowed again, we advise you check the rules on live music because there might be restrictions around entertainment. If you can't have a live band, you can still make a fantastic playlist on Spotify or iTunes, filled with all your grooviest, funkiest, and most romantic tunes to soundtrack the occasion.
It seems sad to imagine a wedding without dancing (…even the cringey uncle dancing), but safety must come first, and it may just not be possible. What we advise is to plan for no dancing BUT rest assured that we can add a dance floor if it is allowed. We do hope that night isn't too far away.
A positive note to end on…
A small intimate wedding for 15-30 guests be equally as beautiful as a larger celebration. It's all about creativity, clever preparation, a sprinkling of contingency – and a lot of optimism. Whatever happens, Time Marquees will be here with you every step of the way.
And remember, if you want to get married or become civil partners and you can't invite as many people as you'd like, it just gives you a brilliant excuse to throw a huge party for your first anniversary!
Time Marquees has over 20 years' experience of providing marquee hire across Berkshire, Hampshire and Surrey. We're here to help you plan a socially distanced wedding celebration to remember. Call us on 0118 973 6444 or email sales@time-marquees.co.uk to discuss your requirements.