Attract more customers with a marquee for your pub, bar, café, or restaurant
Most pubs, bars, cafes, and restaurants were able to open their doors to customers again on 4th July 2020, following months of closure due to COVID-19.
Punters and diners across Hampshire, Berkshire and Surrey have been keen to go out for a pint, cocktail, or a bite to eat after so long apart from friends and family – but many restrictions remain in place.
Navigating the new rules requires a great deal of effort and organisation for owners of local watering holes, coffee shops, tea rooms, and eateries. On the one hand, you need to adhere to the strictest safety and hygiene measures to help protect your staff and visitors – but you don't want to compromise the enjoyable experience your clientele is looking for.
Hand sanitisation points, one-way systems, distancing, and changes to ordering and service processes can all dent the friendly vibe of your pub, bar, café or restaurant. And if you don't have much space and need to seat people outside, a rainy day or seasonal shift in the weather could potentially reduce your takings.
Hiring a marquee for your pub, bar, café or restaurant not only offers you practical solutions for COVID-compliance, it also gives you a chance to expand and re-vamp your space in creative ways that will hopefully attract more customers and help keep your business healthy.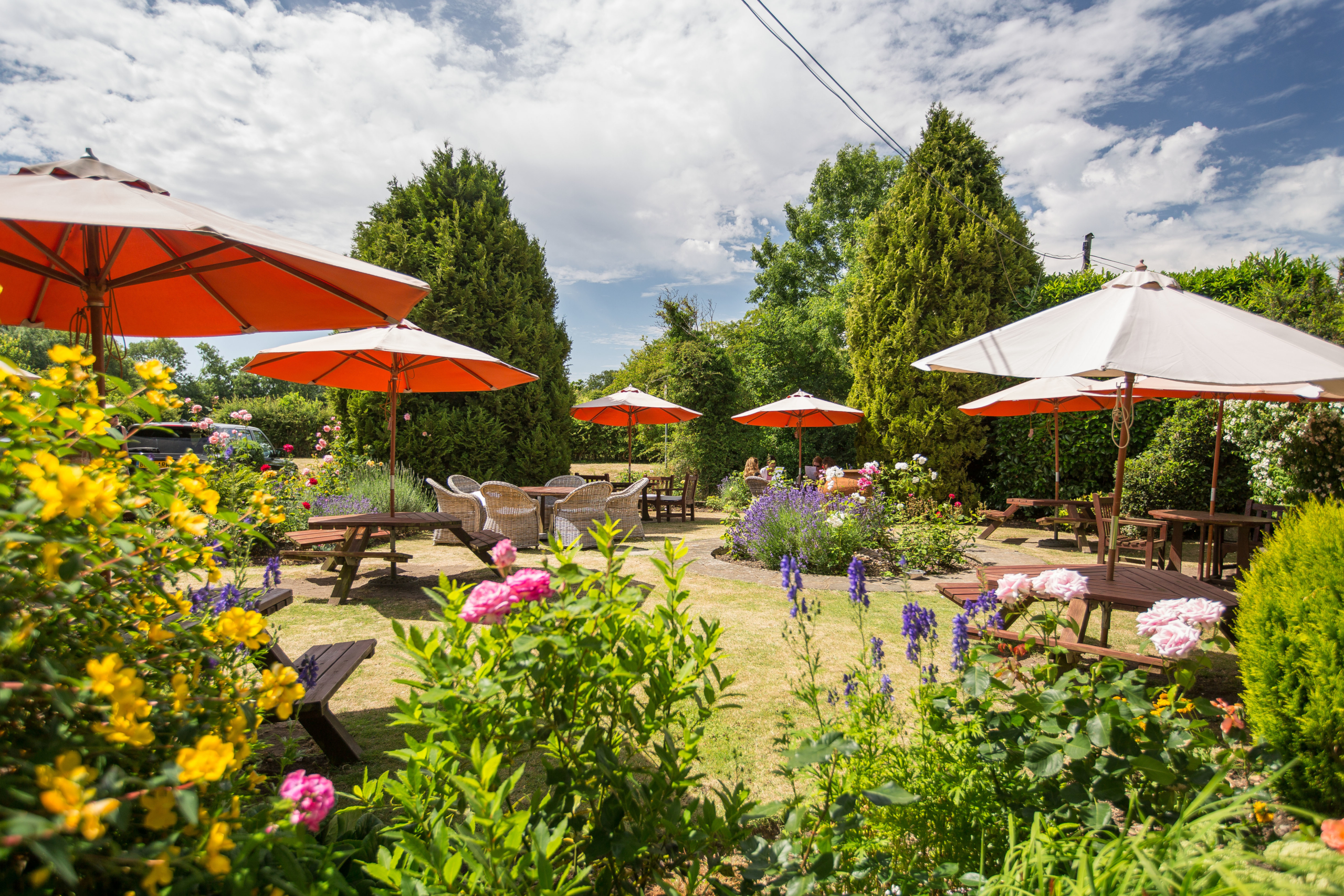 Cover yourself and weatherproof your bookings
 If you're lucky enough to have a beautiful beer garden, patio, terrace or courtyard then the summer months should usually mean you can accept more bookings because you have space to seat them all at a safe distance.
However, we all know the British weather sometimes has other ideas so by hiring a marquee you can accommodate everyone even when it's windy and rainy. Should your ground be soft underfoot once the rain comes, rest assured there are flooring options available to suit every budget, from a plastic event floor to deluxe boarded floor with carpet.
Advertise the extra covered space on your website and social media so that those looking to go out for food and/or drink know they don't have to give the weather a second thought when they book a table with you. Even if it's sunny, shade seekers will be glad to know they won't have to worry about hat hair and lobster limbs.
Types of temporary structure include:
Clearspan marquees– this can be as simple as roof only (with clear or white PVC roof sheets) with no sides to allow air flow, or closed sides that can be open or shut. Our clearspan marquees comes in a huge variety of sizes from 2m to 15m wide and any length
Stretch tents – these long, open-sided structures flow with the landscape and have a more rustic look that might suit your location well
Pagodas (also known as Chinese or witches hats) these can be standalone or linked together to create a larger space. Available in 3, 5 and 6 metre squares or rectangular 3m x 5m
The pagodas and clearspan marquees have the advantage of being able to be installed on a hard standing, so should you lack garden space then a patio or car park can be utilised with the addition of weights to secure the marquee.
Warm customers are happy customers
It won't be long before there's a little more crispness and freshness in the air, especially in the late afternoons and evenings. Encourage visitors to keep going out for drinks and food by providing a heated marquee.
Time Marquees is a marquee hire company that can offer you temporary structures for your pub, bar, café or restaurant – with heating. Your options vary from indirect air flow heaters which will blow the warm air in the structure allowing customers to stay toasty (these are thermostat controlled for extra piece of mind) to simple patio heaters.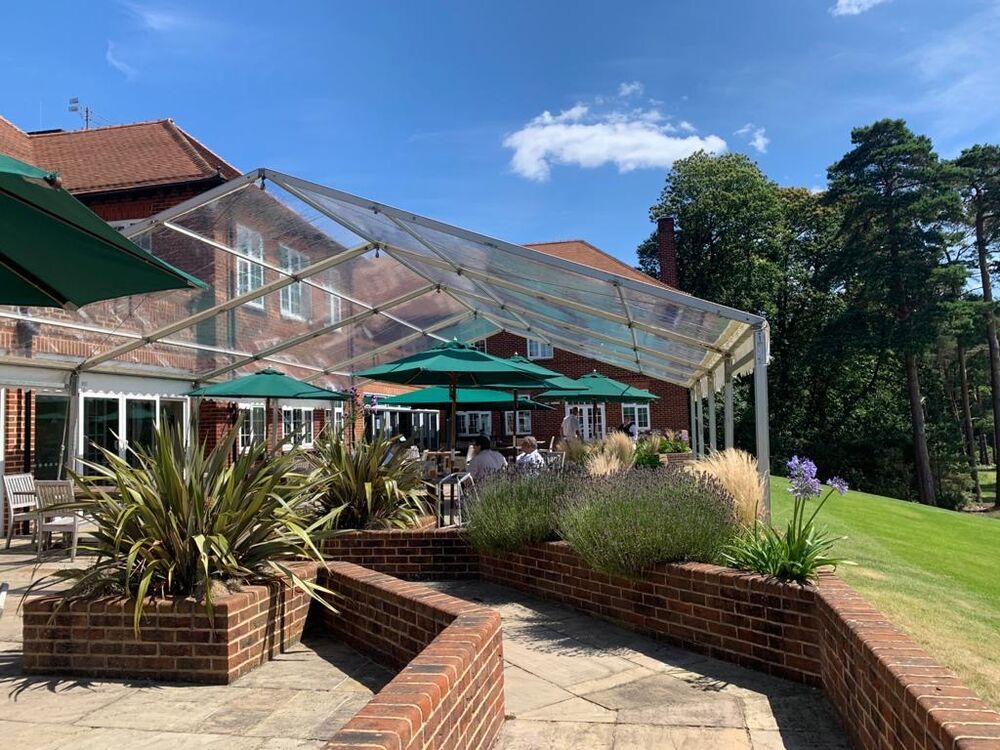 Woo them with atmospheric lighting
As the nights draw in, you'll be wondering how to light the sheltered outdoor spaces you've created, too. Far from being a boring practicality, lighting offers endless possibilities to enhance the atmosphere of your temporary structure. You can really create a 'mood' with it that customers will love and remember.
Cultivate an air of sophistication with chandeliers. Add some magic and romance with fairy lights. Festoon lights conjure a carefree boho vibe, or you could go a little gothic with electric candlelight. Disco balls and coloured lights are another fun option.
Don't forget about additional furniture and toilets for your COVID-compliant temporary space
You may simply need extra furniture for your socially distanced, expanded premises. Or perhaps you need to temporarily replace some of what you have with chairs and tables that are easier to wipe down with antibacterial spray after each visitor? Time Marquees can rent out furniture with the marquee you choose to solve these practical issues.
Don't hold your creativity back when it comes to using furniture to style your new-look pub, bar, café or restaurant though! Rather than making it a functional afterthought, think about how you can use furniture to theme your space.
A few well-placed details can take the décor somewhere truly Instagram-worthy. We are happy to help you figure out how to make necessities such as hand sanitisation points blend into the overall look, too.
We also hire out toilets should you need to offer some extra facilities, or to reduce queues for those you already have.
In need of some extra space to help meet current social distancing restrictions without losing a social atmosphere? Time Marquees is an experienced marquee hire company that can provide simple, flexible, and cost-effective temporary structures for long or short-term hire. Our marquees are in stock and ready for a swift to installation and removal once no longer required.
Give us a call today on 0118 973 6444 or email sales@time-marquees.co.uk