Marquee hire highlights of 2021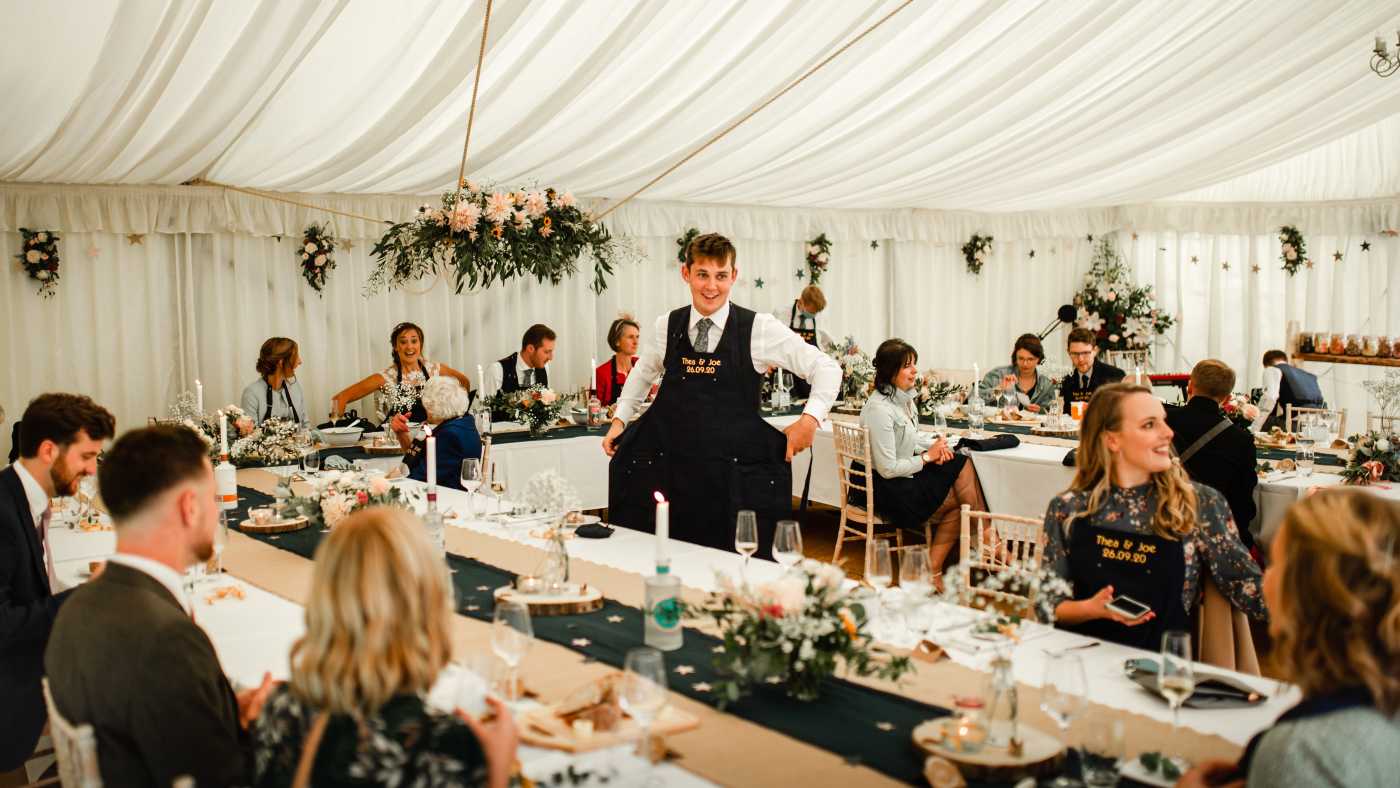 Restrictions on social gatherings and events during some parts 2021 have meant we've all had to become more flexible and adaptable.
For Time Marquees, an event marquee hire company in Hampshire, Berkshire and Surrey, finding ways to roll with the changes has made us an even stronger business. Ideas have been sparked, capabilities have expanded, and fresh avenues have been explored.
Let's take a look back at 2021 and celebrate the wide variety of events and settings that we've provided marquees for. We may have been in the marquee business for nearly 30 years, but 2021 has showed us that there's always scope to diversify…
NHS testing tents – marquees for medical use
Time Marquees has been proud to support the NHS in their heroic efforts to test and vaccinate the UK public against COVID-19. We've provided temporary cover for medical settings, such as a walk-in testing centre Sutton, Surrey.
Marquee hire is a reliable and practical solution for coronavirus testing stations. It provides extra space for reception/waiting areas, sanitising areas, isolation zones, staff training/ briefing points and break areas. Robust and secure, it can also be used for temporary storage. The modular nature of marquees means they can be conveniently adapted as requirements change.
Temporary structures for schools, colleges and universities  
Studies at all ages were impacted by the events of 2021. The education sector desperately tried to keep timetable disruption to a minimum whilst looking after the health and safety of pupils.
Many sites had to find extra space to accommodate social distancing. Time Marquees has hired our marquees out to a range of schools, colleges and universities for classes and exams – as well as events such as summer balls and nativity plays. Our structures are well-ventilated to allow a natural air flow, helping to reducing the spread of germs.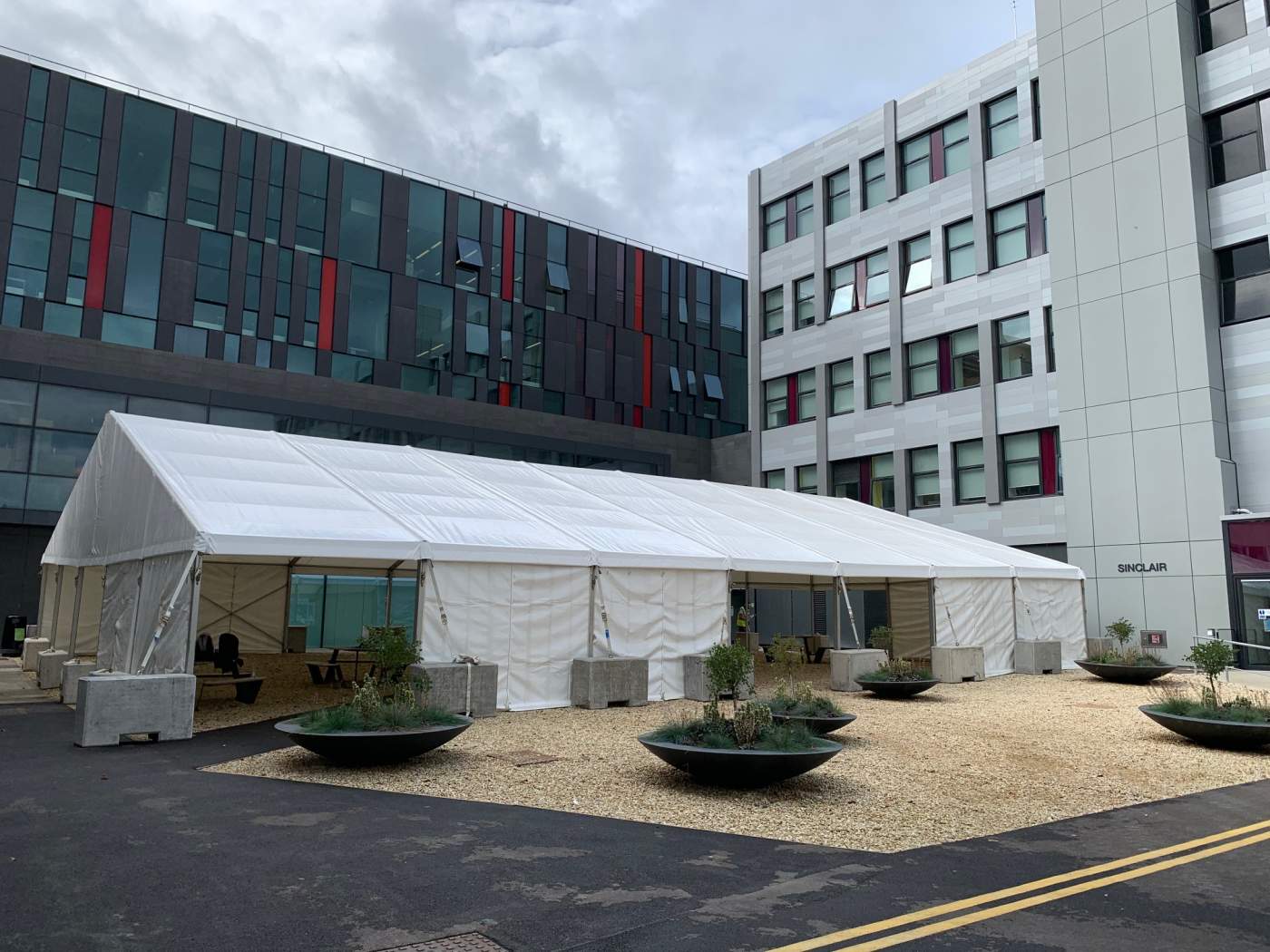 Marquee hire for sports clubs and sporting events
Lockdown was bad news for sports fans. Not only could we not watch it, for a while we couldn't play it either – at least not together.
As soon as restrictions began to lift, we provided temporary club houses for locations such as The Wisley, a luxury golf club in Surrey. Until indoor gatherings were permitted again, members could get together safely before and after rounds. Some golf clubs have kept the marquees in place all year and our expert team has completed a winter check to make sure they're ready for another cold season.
Cowdray Park Polo Club in West Sussex is recognised worldwide as the 'Home of British Polo'. Time Marquees supplied cover for trade stands and corporate areas at their calendar highlight – the Cowdray Gold Cup.
The 39th Reading Half Marathon was another sporting event for which we delivered a range of marquees for use as baggage storage, for merchandise sale, as medical tents and as VIP areas.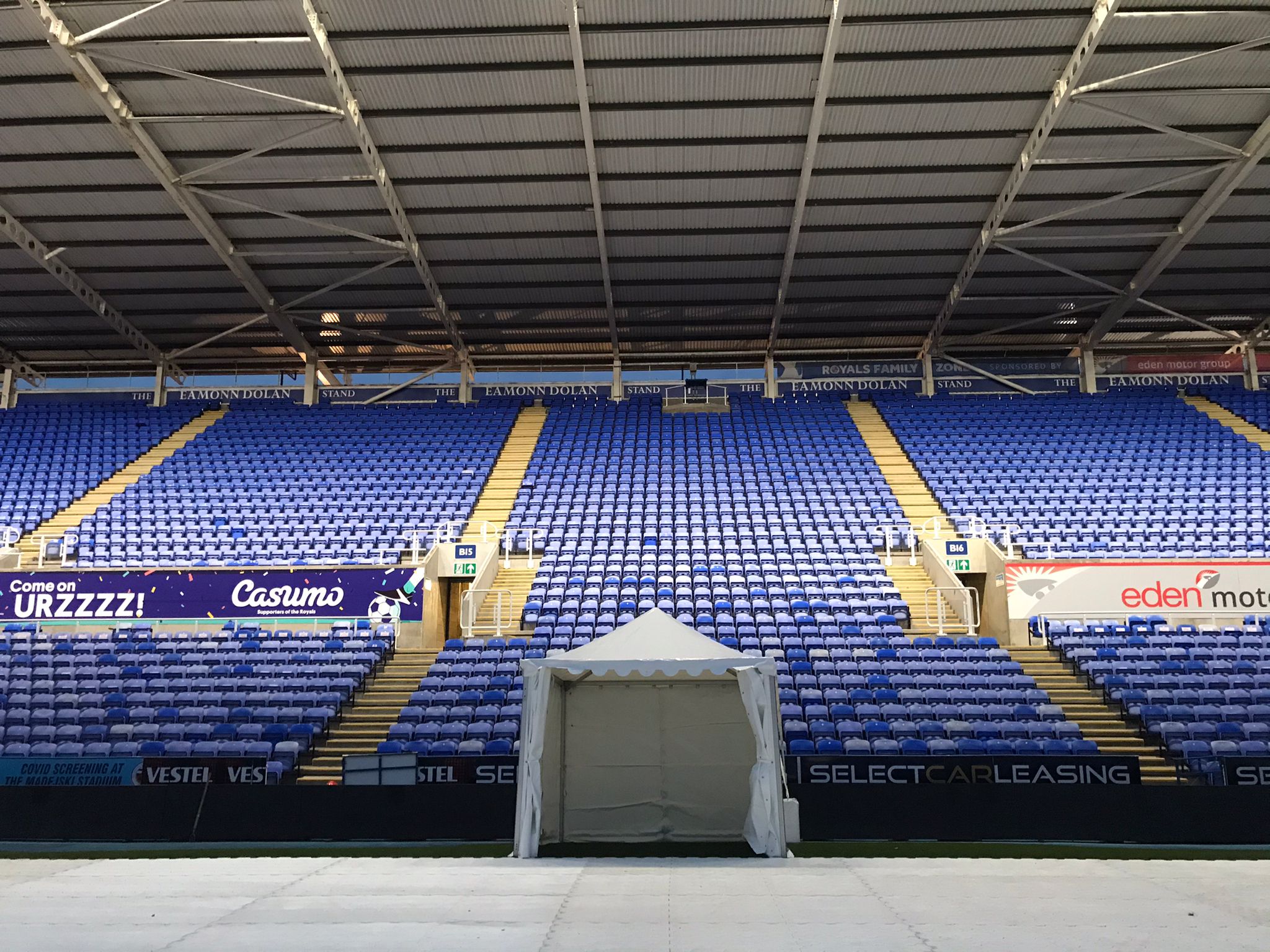 Pubs, restaurants and catering companies – we've got you covered 
Hospitality venues such as pubs, cafes and restaurants have had to get innovative in 2021 to survive. Those with a beer garden, patio, terrace or courtyard have been able to accept more bookings because they had space to seat their punters at a safe distance.
However, the less than temperate British climate means that those outdoor areas need some overhead protection from the elements. Our sturdy structures have helped local venues such as The Hoggett near Hook, Hampshire to host more people in a safe – and dry – environment. Their 'big top' marquee offered ample cover outside for diners and drinkers.
Bella Location Catering has been supplying meals and snacks on film and TV sets for 25 years and they weren't about to let a pandemic steal the show – with a little help from us. Marquees allowed performers and crew to dine safely on 'bubbled' sets.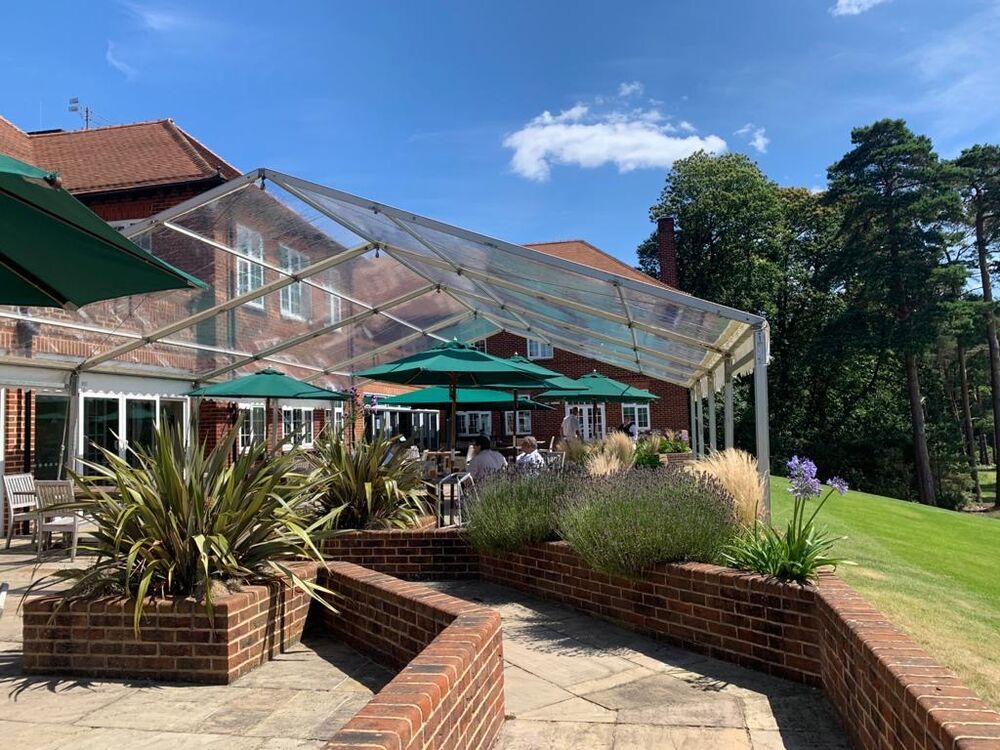 Tents for festivals and other large events
Festivals made a very welcome return this summer after months of Zoom gigs and kitchen discos. Time Marquees supplied a range of tents for the legendary Reading Festival, as well as Off The Hook Festival, Yateley Cask and Cork Festival, and Bracknell Ale and Cider Festival. We also provided the loos!
Many people were thinking about home improvements after lockdown. Build it Live, the popular self-build and home renovation show, returned after being cancelled in 2020 due to covid. We've been providing them with marquees since 2018 and were delighted to work together again.
Wedding and birthday party marquee hire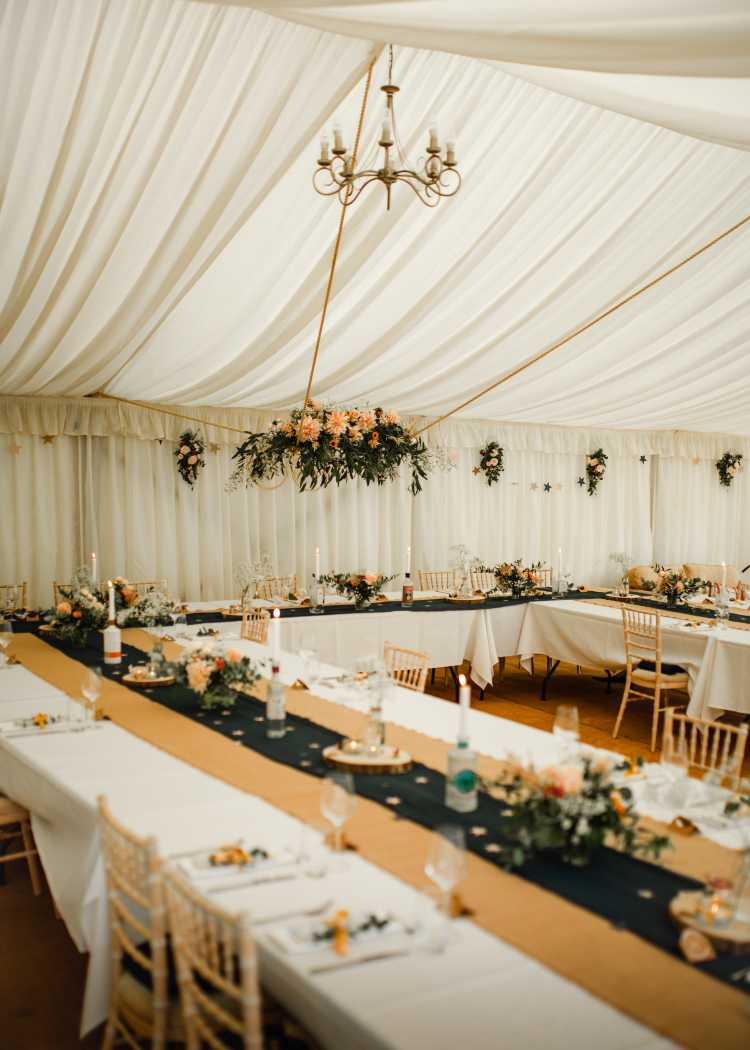 As a family business, we really enjoy working closely with people to create special occasions for weddings, anniversaries, and birthday parties. This is one of the things we missed most during the months when socialising wasn't allowed.
Thankfully, we were eventually able to help lots of brides and grooms celebrate in safety and in style. Our expert team is fully up to speed on all the hygiene and safety requirements, including ways to discreetly incorporate them into the wedding decor.
We also hired our marquees out for lots of 19th, 22nd, 41st, 51st and 81st birthday dos and garden parties, as clients went ahead with all those delayed parties from 2020!
Onward and into the future  
The diverse range of events we've been a part of in 2021 has broadened our expertise and range of capabilities. We're keen take this experience forward for the benefit of all our commercial and public sector marquee hire customers in 2022, as well as the individual clients we work with on weddings and parties.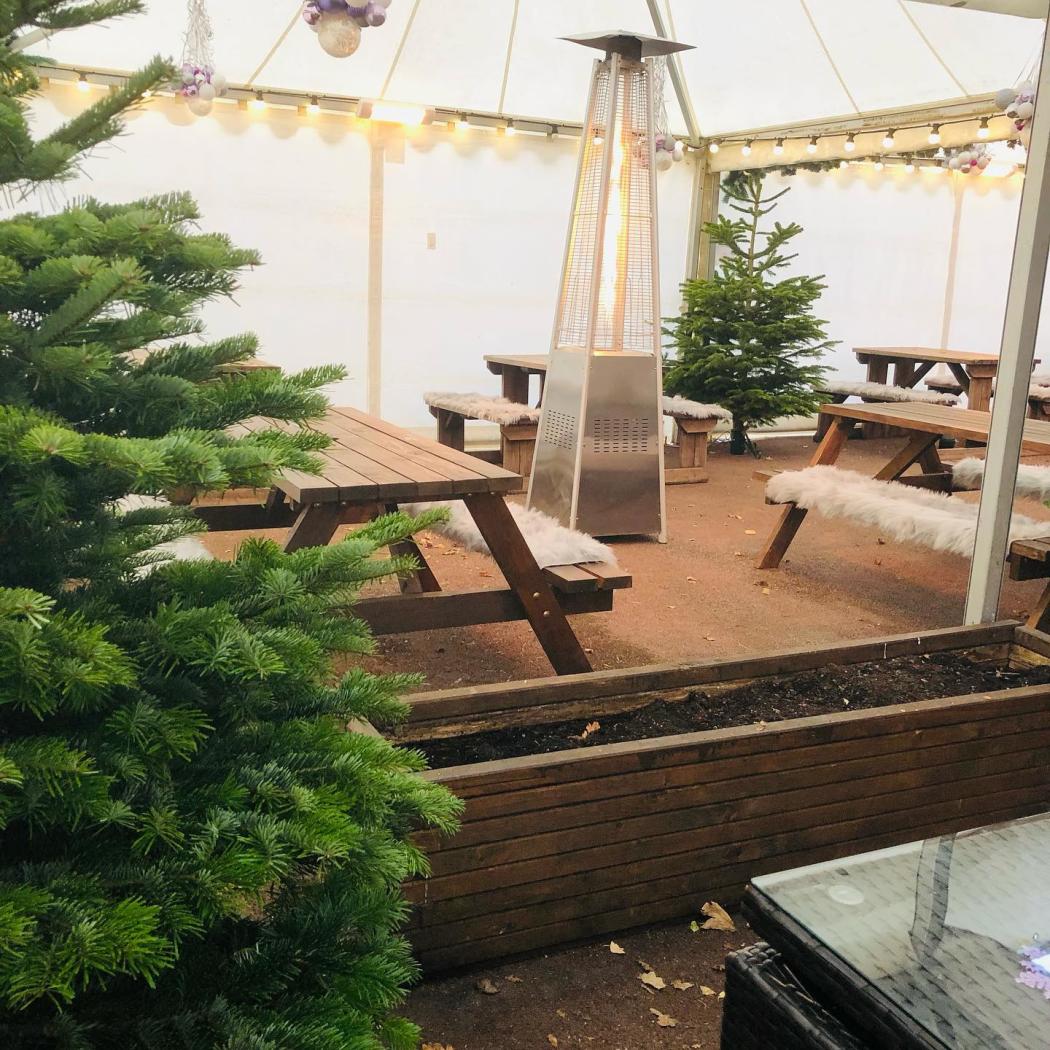 As the famous Heraclitus quote goes, "The only constant in life is change." Whatever happens next, let's navigate it together and appreciate the valuable lessons we learn along the way.
Time Marquees is an established marquee hire company in Hampshire, Berkshire and Surrey and a family run business. Talk to us about high-quality marquee hire for your next event.