3 reasons why you should choose marquee hire for weddings
So, when did they pop the question? Was it with the champagne corks on New Year's Eve, or a heart-stopping line in a Valentine's Day card? Perhaps they honoured that quaint leap year tradition.
Or maybe they simply suggested it over cornflakes on a Monday morning!
People get engaged to become married or civil partners in all kinds of wonderful and wacky ways – and hearing their romantic stories is part of the reason we've loved providing marquee hire for weddings across Hampshire, Berkshire and Surrey for decades.
Every love story is unique – and that means every wedding should be too. Do you have a crystal-clear idea of what you both want but you're wondering how you'll ever find a venue that can make it happen? Or maybe you have no clue what you want and feel a bit overwhelmed by all the choice out there.
Either way, marquee hire might be right for you. We could give you a hundred reasons to choose marquee hire for your wedding, but we believe in keeping things as simple and stress-free as possible, so here are three just for now…
Flexibility – you can put a marquee just about anywhere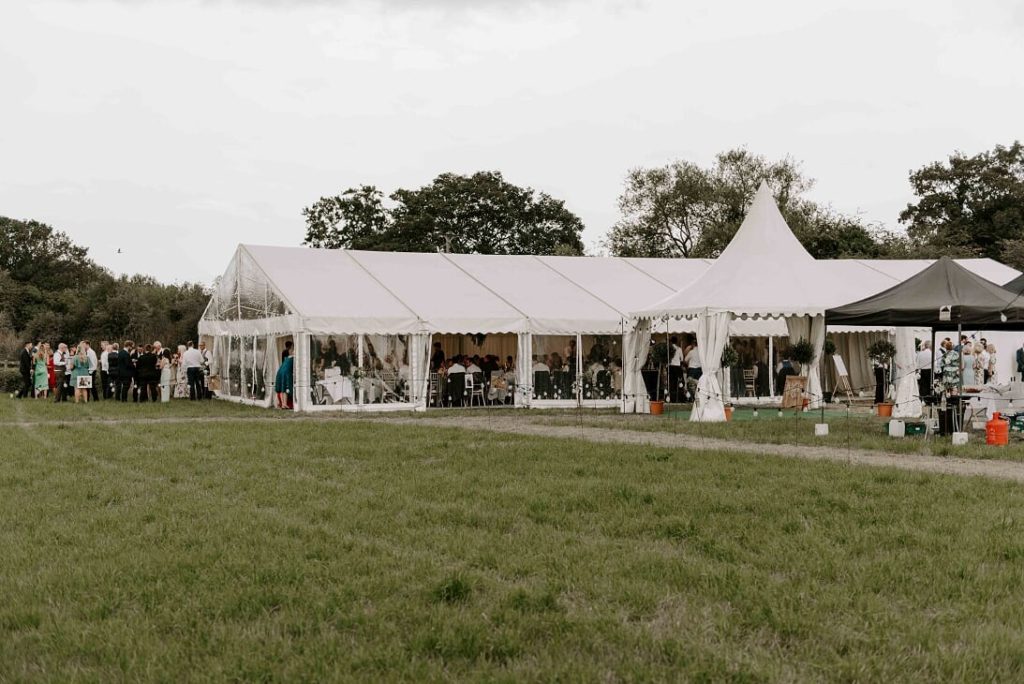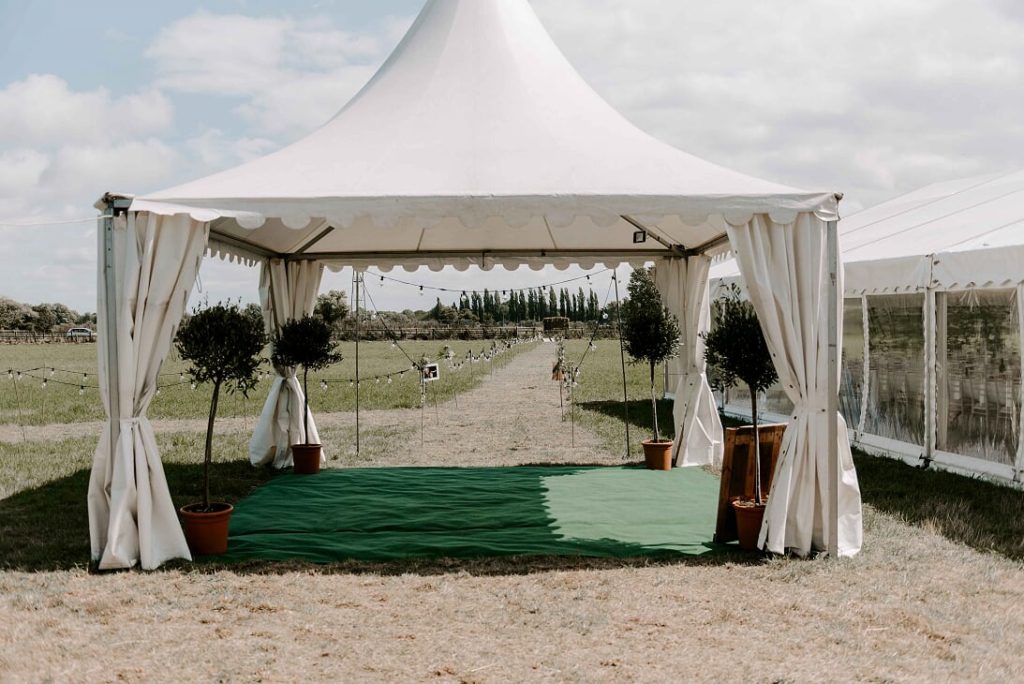 One major benefit of marquee hire for weddings is that you can have the pick of the bunch when it comes to location. It could be the field where you once went on that picnic date, a rural setting where you love to go walking, a farm, by water, or even a family garden.
Sometimes people worry that awkward features such as uneven ground, trees and bushes, statues or even ponds and streams will prevent them from having a marquee wedding in their desired outdoor location. However, with many years in the business, we've got a few tricks up our sleeves so there aren't many obstacles we can't get around!
By choosing your own location, you'll almost always have the freedom to go with your own caterers, bar options, entertainment and florist (or even D. I. Y. to keep costs down), rather than being restricted to the 'preferred supplier' list held by the venue. With a marquee, your preferences come first.
When it comes to the practical considerations (A.K.A. the boring stuff), Time Marquees can provide a large range of deluxe toilets, flooring (parquet, oak wood effect, or black and white), tables and chairs, heating and mobile chiller units. Leaving this in our hands often keeps costs down and reduces the number of different suppliers you'll have to liaise with.
Personalisation – style your celebrations your way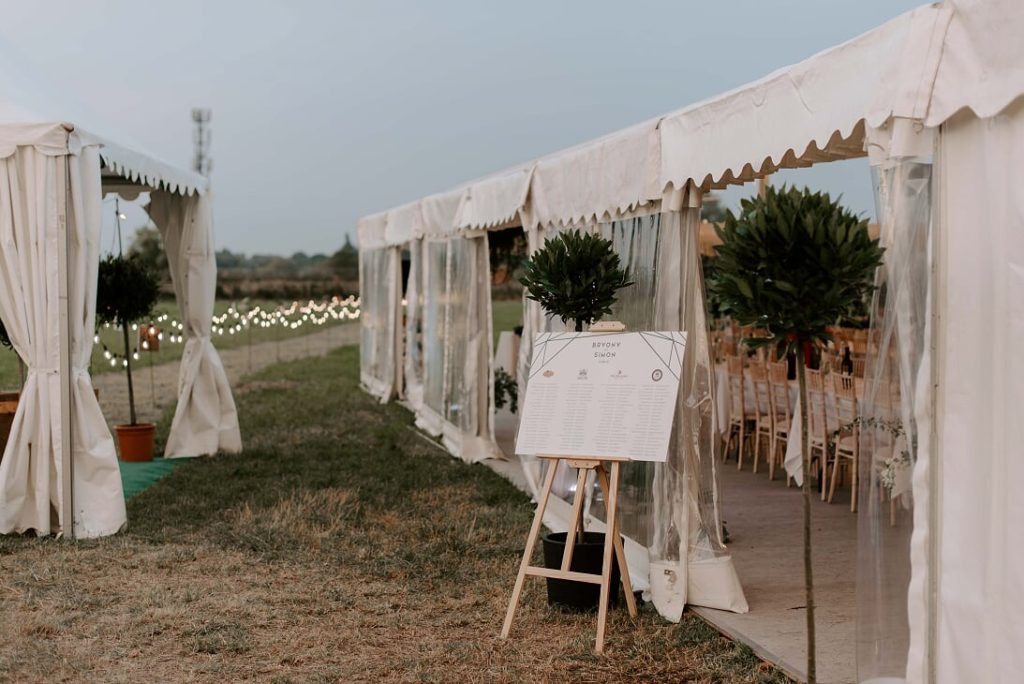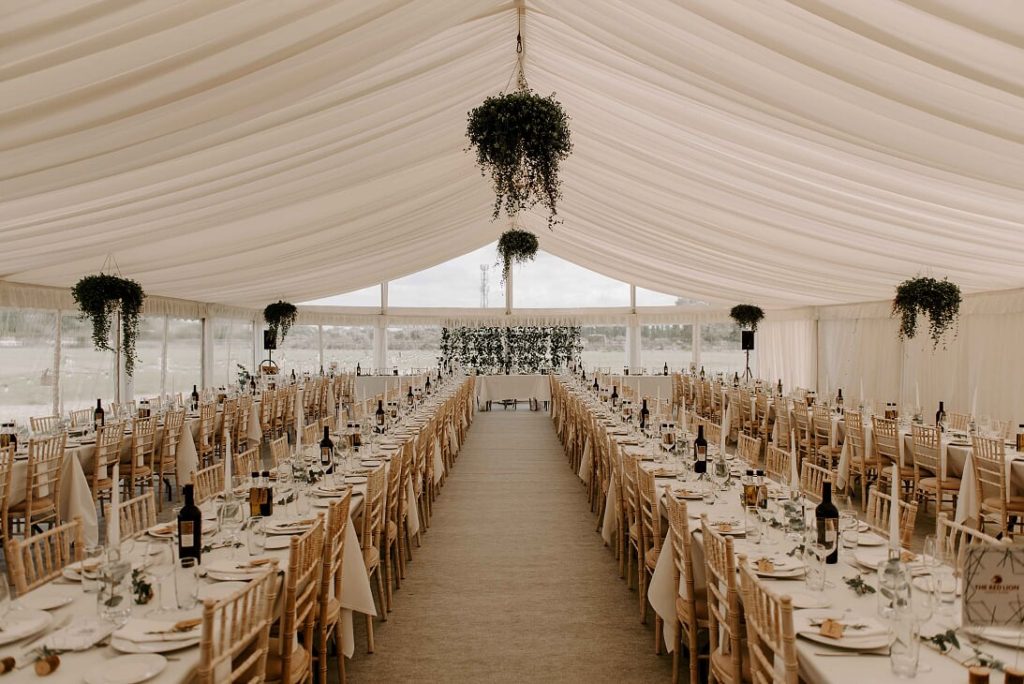 Clients are often surprised to learn that not all marquees are created alike – and therein lies their charm! There are a variety of marquee styles; each with their own benefits and each one a blank canvas on which to express your personal style – and complement the location you have chosen.
Clearspan marquees come in a range of widths from 2m to 15m and can extend to virtually any length. Linked them together to create different zones for dining, dance, reception and catering, if required. Add an integral wooden floor and heating and realise you can have your wedding celebrations in any weather, even in autumn and winter.
The word Clearspan refers to the structure not having any supporting poles inside, which means you have a wide scope for decorating it just as you wish. Go wild with flowers and foliage and shine bright with beautiful lighting.
A stretch tent is a freeform fabric structure that allows for a variety of configurations in terms of shape and height. With open sides, they lend themselves well to a relaxed, Mediterranean vibe. Think long tables overflowing with family, food and laughter. If you're having your wedding in a particularly scenic location, a stretch tent will allow the natural beauty of the surroundings to become your décor.
Also known as 'Chinese hat' because of its sophisticated pointy roof, a pagoda marquee is available in 3, 5 and 6 metre squares or rectangular 3m x 5m. Not only do they look pretty, they're versatile and sturdy.
When you choose a marquee for your wedding, you can become part of the design process. There won't be any rules, limits or judgements on how you want it your nuptials to look, compared with many wedding venues and suppliers who will influence the end result.
Retro, modern, romantic, rustic, chic, bohemian, casual, formal, art deco, punk rock, eco-friendly, nautical, celestial, superhero, Disney, biker – which words resonate and reflect with you as a couple? Let's build a marquee mood board around what makes you YOU.
Space – fewer restrictions on the number of guests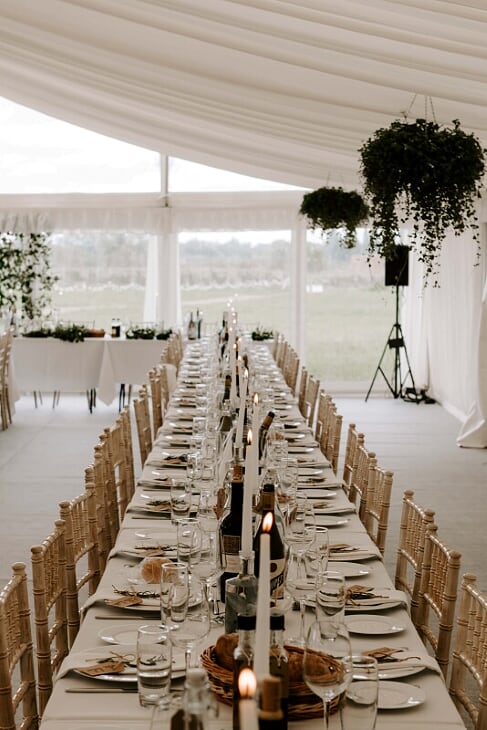 Creating the guest list for your wedding can be tricky. You want all your closest mates there, Mum and Dad want you to invite Great Uncle Wilf, you'd like a few close work colleagues too… but that means you'll have to squeeze in Tim from accounts. And what about all the 'plus ones'? Soon enough, your guest list is way in excess of the space you have available at your chosen venue.
You don't want to compromise on your setting, but you don't want to leave anyone out or cause a family rift! One more reason why marquee hire for weddings is such a clever solution…
Our marquees can fit as many as 225 people, but you don't have to have a massive guest list to have one. There are plenty of smaller options for a more refined number of about 75.
If you have an indoor venue in mind (perhaps a pub or restaurant) and they have outdoor space for a marquee, you can create an 'overspill' area for eating, relaxing, and dancing in. This can open up the option of a smaller venue that you have your heart set on.
Marquees also allow you to 'phase' your wedding, creating a separate party area for evening guests. Some people use the versatility of marquees to 'theme' or 'zone' areas of their wedding, almost like a festival! Bar area, live music area, dancefloor, chill out area, kids' area – with marquee hire it's all up to you. And depending on where the marquee is situated – the celebrations can go on as late as you like!
Tell us about your wedding plans and we'll help you find the best marquee for your celebration. We're a family business based in Hampshire and we've been providing marquee hire for weddings for over 25 years. Call us on 0118 973 6444 or email sales@time-marquees.co.uk to discuss your requirements.