Marquee Hire for Golf Clubs: Spotlight on The Wisley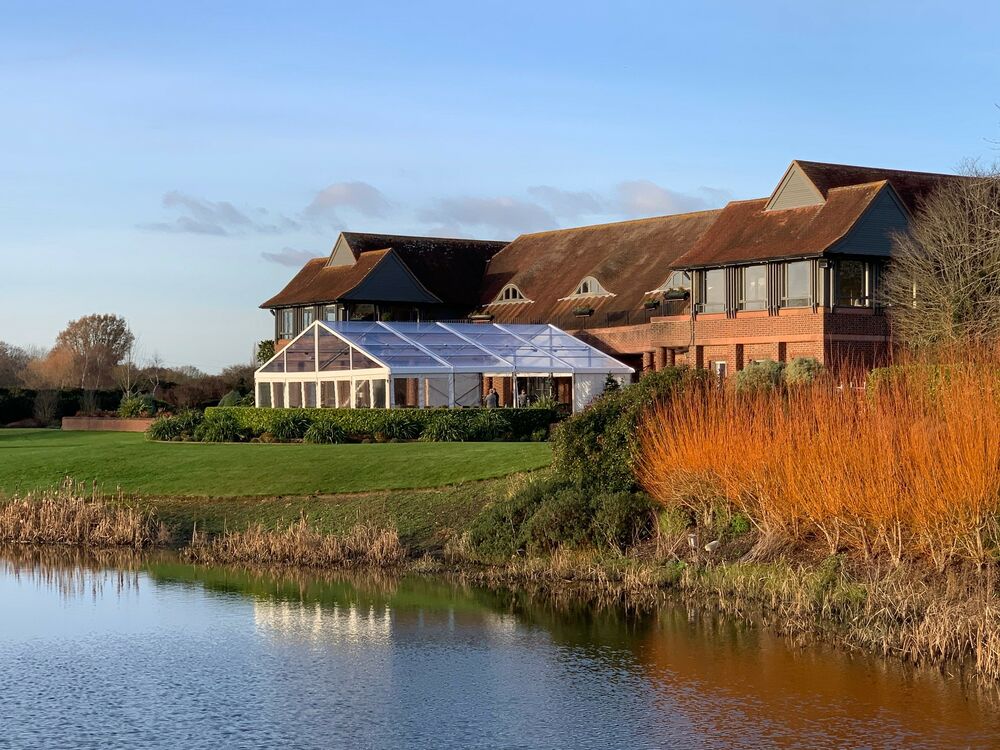 The Wisley is a luxury golf club set in 224 acres of lush Surrey countryside. Owned and cherished by members, it describes itself as "a haven for golfers with a passion for the game".
Legendary American golf course architect Robert Trent Jones Jr. designed the 224-acre site in 1991. His intention was for state-of-the-art facilities to blend seamlessly with the beautiful scenery surrounding it, which includes RHS Wisley Gardens and the River Wey.
A temporary clubhouse during the pandemic
Featuring artificial surfaces and covered bays as well as a grass course, The Wisley is open all year round. The newly refurbished 23,000 square feet clubhouse is a social hub used for medal ceremonies, family days and dining.
With a 'home from home' atmosphere, there is a strong sense of community and the clubhouse is the beating heart of that.
Even when golf courses opened after lockdown, gathering indoors was not permitted. Keen to keep operating close to normal and eager not to lose their community spirit, The Wisley approached our established family-run marquee business in nearby Berkshire, looking for a solution.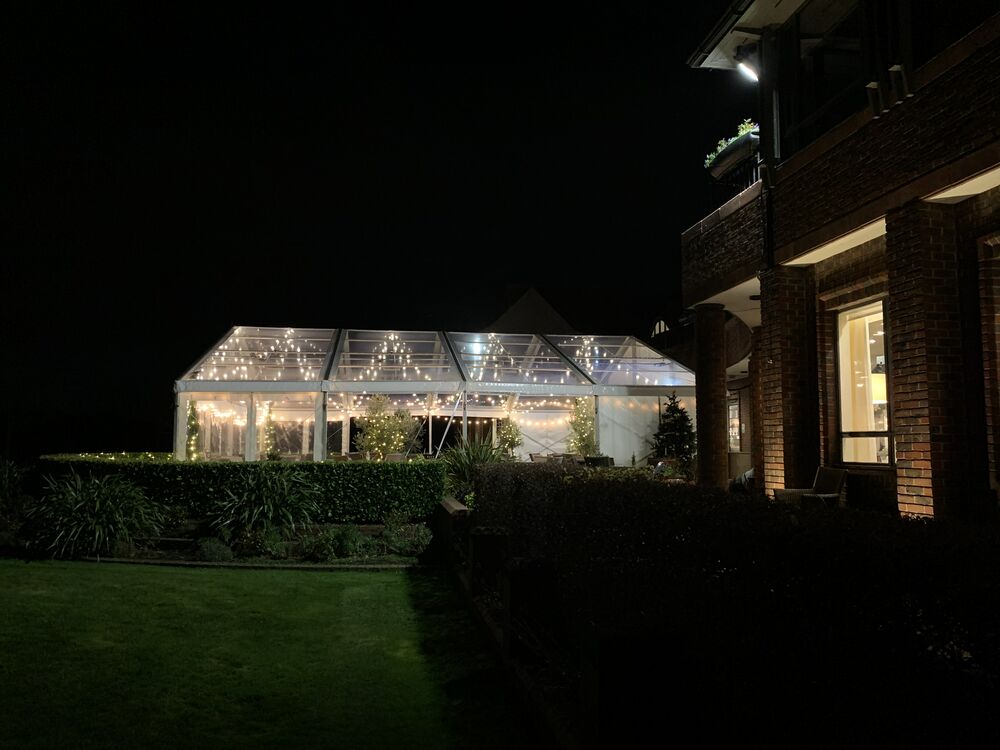 Cost-effective excellence
Time Marquees had been recommended to The Wisley by a number of other golf clubs that we had successfully provided temporary structures for, and they were impressed by examples of our high standard of work.
Managers at The Wisley chose to work with Time Marquees because we offer exceptional marquee quality combined with a flexible service and a competitive long-term hire rate.
Safe, secure, spacious… and scenic
Marquee experts met with The Wisley to clearly understand their objectives, so that we could provide a bespoke solution that would enable them to keep operating in unprecedented circumstances, and unpredictable British weather!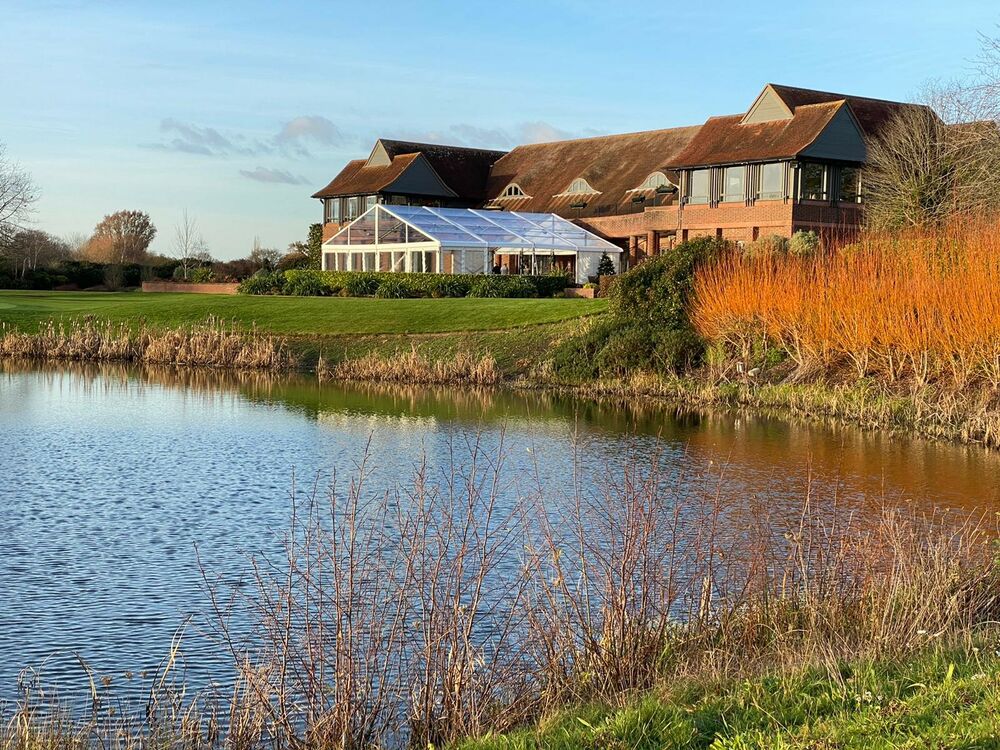 COVID-19 safety regulations specified that outside cover must have 50% of the sides open, to ensure adequate levels of ventilation and help prevent the spread of germs.
Yet, with the winter approaching, they needed a structure which would also stand up to harsh weather conditions, especially as the structure was to be placed onto a patio area.
Hygiene and practicality needed to be blended with aesthetic appeal. The Wisley is so popular partly because of the stunning natural backdrop that surrounds it. They didn't want to lose this important aspect of their member experience, so the marquee would need to integrate with the landscape.
Time Marquees tees up the ideal solution
Determined to solve their challenges and meet their objectives, our friendly team surveyed the Surrey site and erected a clearspan marquee. This style of marquee has a clear roof and sides, which allows lots of natural light to flood in, as well as offering ample views of the gorgeous countryside around the course.
The Wisley and Time Marquees collaborated with Grizzly Bear Events, who provided illumination and warmth with festoon lights and fire pits, transforming the marquee into a cosy Christmas wonderland over the 2020 festive period.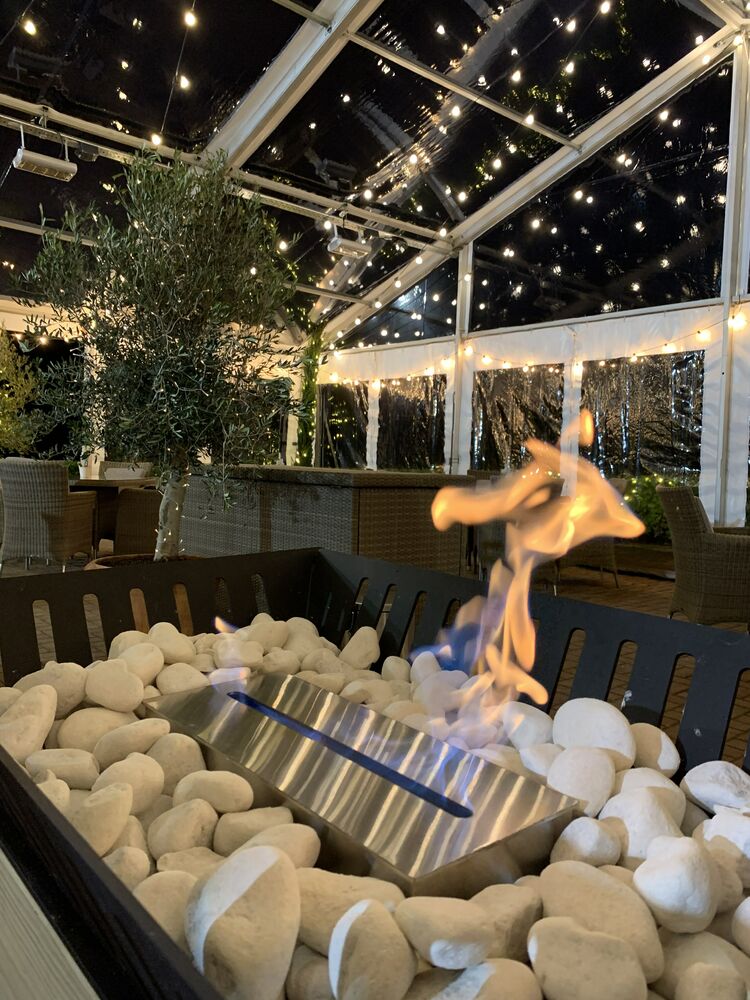 Enjoying the advantages of marquees for golf clubs
A marquee was installed at the end of October 2020 and has become a popular temporary clubhouse during the period in which restrictions have applied to indoor social gatherings.
The Wisley has experienced the following benefits:
Utmost safety levels for members due to extra space for social distancing and ample ventilation

Extra capacity for tables meant they could cater for more members, boosting revenue

Greater comfort for golfers because they had a covered area in to relax and refresh themselves in between rounds, so more people played no matter what the weather was up to
Importantly, the sense of community at this golf club was not just maintained, it flourished – just like the nature that could still be viewed all around it.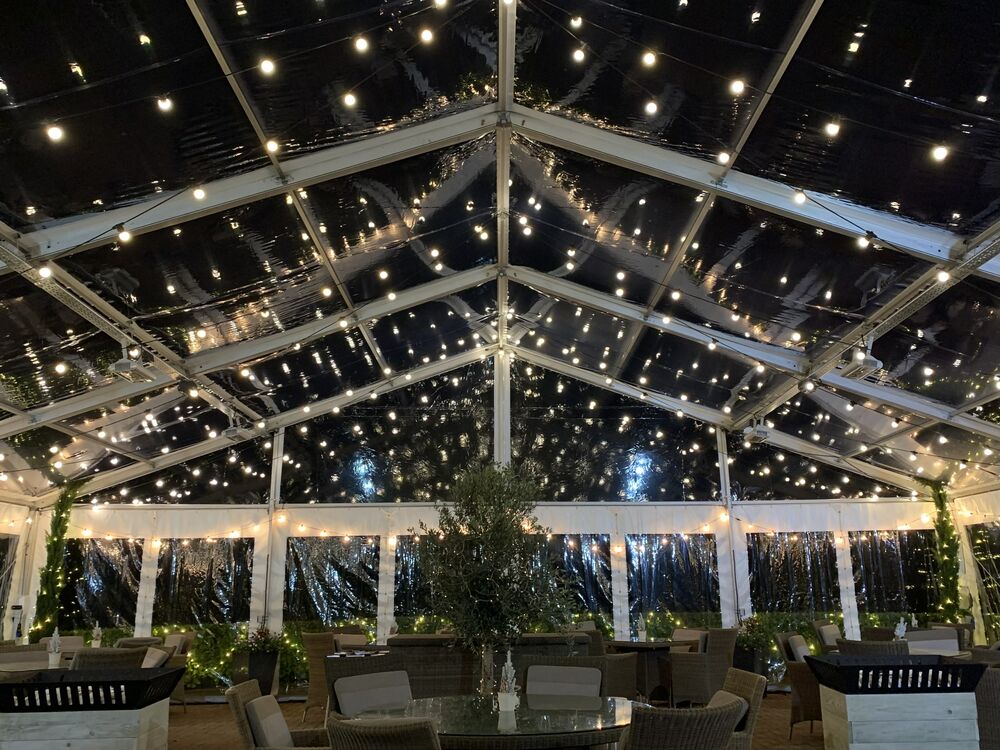 A few words from the Clubhouse Manager
"We would like to express our thanks and gratitude at your speedy response to our original enquiry and help thereafter throughout the pandemic. The marquee was a life saver and our members were truly appreciative to have some shelter during what has been an abysmal spring."

– Clubhouse Manager, The Wisley, Surrey
If you manage a golf club and you're looking for marquee hire in Surrey, Berkshire, Hampshire or the surrounding areas, you can count on us to provide high quality and COVID-safe marquees for temporary cover from rain, wind and sun. Call us on 0118 973 6444 or email sales@time-marquees.co.uk to find out more about how we can help you.