Providing marquee hire for healthcare sites during the COVID-19 pandemic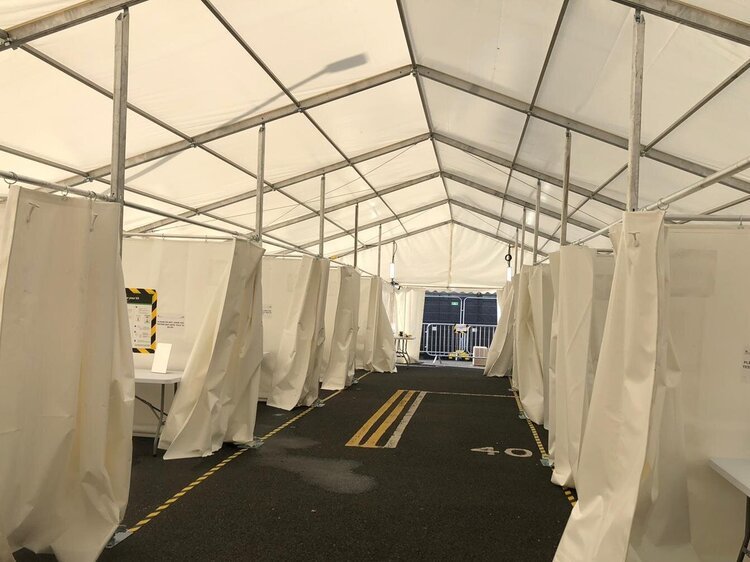 Although lockdown continues with no definite end date confirmed, there is light at the end of the tunnel in the form of the massive vaccination roll-out that is already underway across the UK.
In The Department for Health and Social Care's UK COVID-19 Vaccines Delivery Plan it says that they are currently on track to vaccinate the most vulnerable by mid-February, after which the programme will be expanded so all adults can be vaccinated by the autumn.
As a marquee hire company in Berkshire, Hampshire and Surrey, we welcome news of the vaccine with great relief and optimism. So many lives will be saved and we can return to happier times filled with weddings, birthday parties, sports, ceremonies and community events.
In the meantime, we are here to do what we can to support healthcare settings.
Do you need a marquee to create extra space in on a healthcare site?
Our reliable, top quality temporary structures can provide extra space and robust cover for:
coronavirus testing stations

reception, admin and waiting areas

staff training areas and briefing points

catering and dining facilities
We recently provided a marquee for a walk-in testing centre in a sports centre car park in Sutton, Surrey and we have extensive experience adapting marquees for a broad variety of clients ranging from Royal Holloway University to The Crown Estate.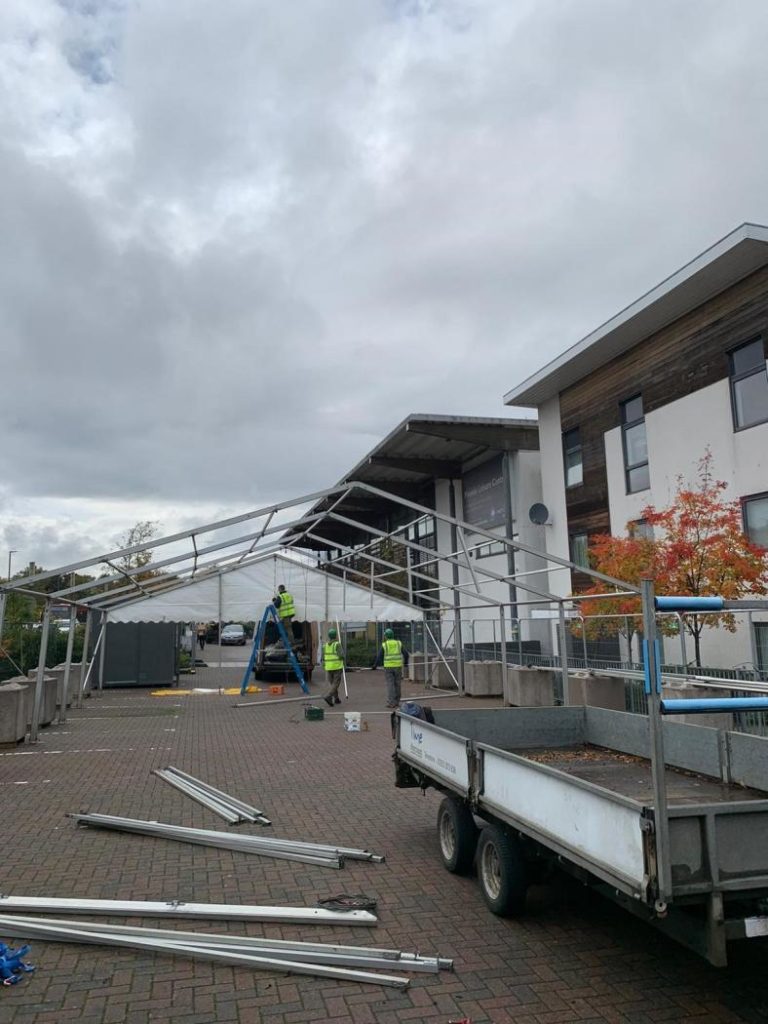 The benefits of marquee hire for healthcare sites
Marquee hire is an ideal solution when additional covered space is required on a semi-permanent basis within healthcare.
Let's take a look at some of the reasons why a marquee from Time Marquees could be the right choice for your organisation…
Quality
When you hire a marquee from us, rest assured that our robust structures are built to last, even in unpredictable weather.
They have a wind loading of up to 21mps, aluminium framework, and are made of heavy duty 650g PVC material. We use strong earth anchors and a wall and roof bracing to achieve above loadings.
Adaptability
Our marquees are of a modular nature so we can configure them around your needs and other buildings on your site. We have the skills and equipment to work around awkward spaces, including flooring for uneven and sloped surfaces. They come in different styles and sizes and we can adapt them for you as the seasons change.
Privacy
With confidentiality of paramount importance in a healthcare setting, you'll want to know that the privacy of visitors is guaranteed.
Although our marquees with clear sides and clear rooves might suit your welcome areas, we have many other options that will allow internal partitions for sensitive appointments and procedures. Everything can be laid out and signposted to meet your specifications.
Safety and comfort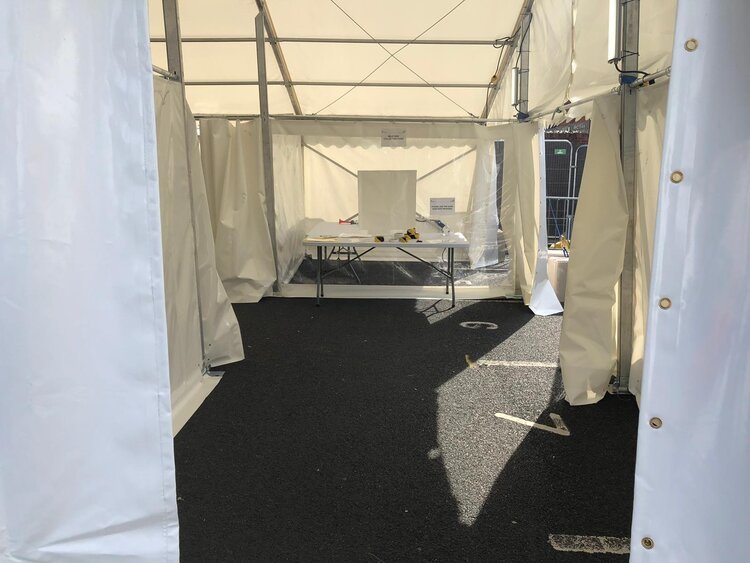 Your organisation is dealing with visitors who are likely to be in some physical or emotional discomfort. The staff helping to treat them are extremely busy, working hard in challenging circumstances.
The expert team at Time Marquees are here to make sure that the temporary structure we provide you with is a comfortable temperature (air conditioning/heating), lighting levels are suitable during both night and day, there is ample ventilation.
We can provide additional temporary toilets and small areas, such as pagodas, to create separate hand sanitisation points. If you require furniture, we can help you with that, too.
A cost-effective solution with short lead times
Hiring a marquee is a more sensible solution than purchasing one. Buying a reliable marquee system (comparable in quality to those available for hire) could cost in excess of £10k. Cheaper options are not likely to be fit for purpose in all weathers.
When you work with Time Marquees, you'll also get the benefit of our decades of expertise. One of our team will meet with you to understand your specific needs and survey your site. Following that, we'll advise you on a suitable temporary structure from our selection of high quality marquees and tents – and can get everything set up within short lead times.
Marquees can be used in the short and long term and we are ready to adapt your layout and features as your healthcare situation evolves.
If you work for a healthcare organisation and you're looking for marquee hire in Berkshire, Hampshire, Surrey or the surrounding areas, you can count on us to provide high quality, flexible marquee options that are safe, comfortable and private.  Call us on 0118 973 6444 or email sales@time-marquees.co.uk to find out more about what we can do to help you.