Heating your party or wedding reception marquee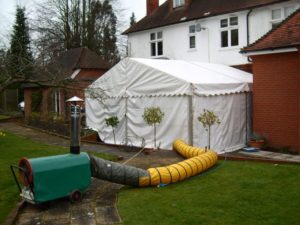 Heating your Party or Wedding Reception Marquee is as important as booking your marquee.
Providing a warm welcoming venue for your party or wedding reception is a clear make or break for the evening. Without heating in the correct manner your guests will ether move into another building or they will leave early.
Our indirect oil fired warm air heaters are super efficient and the correct tool to heat your marquee.
Each heater comes delivered with fuel to run the heater for 12hrs complete with an internal thermostat to regulate the temperature. One click and the heater cuts in.
The heaters provide you with fresh warm air. The unit is sited outside the marquee so reduces the room required inside. You just set the required temperature and leave it to do the rest.
We will check the Met Office weather forecast and advise on the heating required at time on the install.