Marquee hire highlights of 2022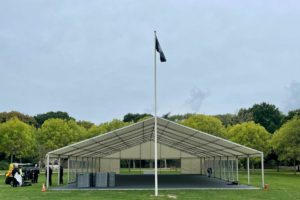 Wow, has 2022 really gone by so fast? Time flies when you're having fun! For Time Marquees, an event marquee hire company in Hampshire, Berkshire and Surrey, we've been lucky enough to supply marquees for a diverse and exciting array of occasions this year.
We have provided marquees for weddings, parties, graduation ceremonies, balls, trade shows, sporting events, country shows, and horse trials. It has also been our great honour and privilege to hire our marquees for memorial events and funerals.
Let's take a look back at a year to remember…
Giddy up for Badminton, Your Horse Live, and Wellington International Horse Trials
Badminton is one of the most well-known occasions on the equestrian calendar. A packed programme includes dressage, cross country eventing, show jumping and much more. Your Horse Live is another one of the UK's biggest equestrian shows, featuring over 300 exhibitors, world class riders, Olympic stars, masterclasses and the A-list of horsey celebrities.
Then there's Wellington International Horse Trials and Country Fair in Hampshire, a popular event offering family activities, shopping and displays in additional to the horse trials.
Always chomping at the bit to show off our versatile marquee hire skills; we called in the cavalry to help make these equine events a runaway success in 2022!  Our marquees were adapted for a variety of uses such as trade stands, sponsors' marquees and information marquees.
In 2022, Time Marquees has also provided marquee hire for polo clubs in the South East, helping to make our equestrian client portfolio one of the best in show.
Planes, marquees and automobiles
From four legs…to four wheels! Our marquees were also spotted at the Motorhome & Caravan Show. Advertised as the UK's biggest leisure vehicle show, happy campers across the land came in their droves to explore the country's largest display of campervans, motorhomes, caravans, trailer tents and accessories – all under one roof (…or should that be marquee?).
As practical types, we've got our feet on the ground, but that doesn't mean we don't love the glamour of the luxury jet set life. This year, Time Marquees installed marquees and pagodas between the finest private aircraft at The Elite Show, a prestige lifestyle exhibition held in Wycombe Air Park.
We have a wide range of capabilities and marquee hire options suitable for trade shows of all kinds, and this year we also supplied marquee hire for Build it Live, a self-build and renovation exhibition in Oxfordshire with who we have worked in previous years.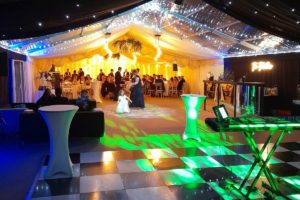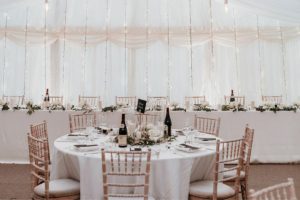 Marquees for country shows at Highclere and Swallowfield
Our company has been providing marquees for Highclere Show in Berkshire since 2018. After a year off in 2021, due to covid restrictions, the show was back with bang in 2022 and we helped put on a fantastically successful event with lots of fun for all the family. There were demonstrators, entertainers, have-a-go activities, sporting pursuits and lots more.
Sally from Time Marquees has fond childhood memories of attending another country show in Berkshire, the Swallowfield Show, where she helped her Grandad exhibit his flowers. Our family-run business was delighted to provide marquee hire for another blooming marvellous show in Swallowfield in 2022.
Helping Reading Half Marathon to reduce its carbon footprint by being a local supplier
The Reading Half Marathon celebrated its 40th anniversary in 2022. Time Marquees helped the organisers to reduce the carbon footprint of the event with over 17,500 square foot of marquee hire supplied from our nearby Berkshire HQ.
With other big sports events such as Henley Royal Regatta under our belts, we had the skills and expertise to provide a range of marquees in which to store entrants' baggage, showcase and sell marathon merchandise, as a place for help desks, for medical aid and massage, and to host VIPs, charities and corporate receptions.
Event organisers were so impressed with the flexibility, quality and cost-effectiveness of our service, that they've asked us to provide marquee hire for the next three years' half marathons in Reading.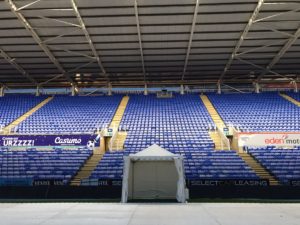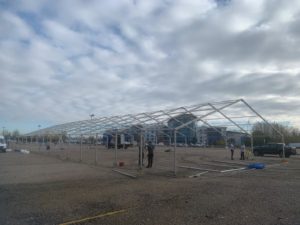 Graduations galore at Royal Holloway University
For almost 15 years, Time Marquees has been providing event marquee hire for Royal Holloway University's graduation ceremonies. In 2022, we supplied ceremony marquees for not one but two graduations. One had been delayed during the pandemic, the other was for the latest batch of final year students.
The layout of the university site has changed over the years, with new buildings added. We've always risen to the challenge, offering high quality hospitality cover for that all-important photo-ready backdrop.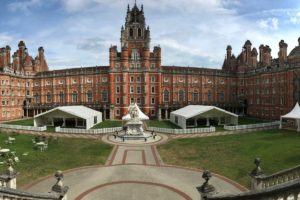 Having a ball at Shiplake College (…plus a prizegiving, assembly, festival AND regatta!)
Shiplake College is an independent boarding and day school situated in 47 acres of beautiful Oxfordshire countryside near Henley-on-Thames.
Our team was delighted to set up marquees for the end of year prizegiving ceremony, large enough to seat 900 guests! We also supplied marquees for the Shiplake College Platinum Ball, Shiplake Rocks festival, the leavers ball, the final assembly of the year and the annual national school regatta at Dorney Lake.
Falklands War Memorial for over a thousand guests including Prince Edward
We were proud to hire our marquees to Pangbourne College for a 40th anniversary service marking the end of the Falklands conflict and in remembrance of the British personnel, Argentines and civilian Islanders killed.
With more than a thousand guests expected at The Falkland Islands Memorial Chapel within Pangbourne college grounds, the organisers had asked us to extend the chapel space. Our marquees kept them all covered for the service – and for tea afterwards. Prince Edward, the Duke of Kent, attended.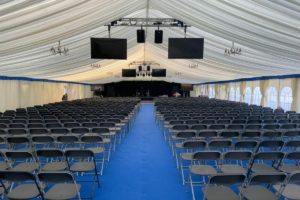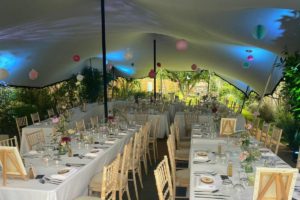 Special family occasions
2022 will be remembered by many as the year we all sadly said goodbye to HRH Queen Elizabeth II. As part of our long-standing relationship with The Crown Estate, we provided a number of marquees for this royal family funeral.
Marquee hire for large and corporate events is always exciting but it's often the family events that feel most meaningful. Parties were back this year and we set up marquees for 18th, 21st, 40th and 60th birthday bashes, as well as lots of beautiful weddings and wedding anniversaries. Stretch tents really came into their own during the long summer heatwave!
Every "SURPRISE," "I do", "Congratulations," "Cheers", "Well done", "Ready, get set", "Welcome" "Goodbye" and every moment of remembrance was our honour to be a part of.
Warmest thanks to all our clients and, if we haven't worked with you on an event yet, perhaps 2023 will be the year?