A guide to garden party marquee hire for gatherings of all shapes and sizes
Our homes have been our sanctuaries over the past year or so. Among those of us fortunate enough to have a garden, many will have been weeding, planting, pruning, potting, paving and landscaping a scene that would make Monty Don proud.

Now that lockdown restrictions are slowly lifting, we're all thinking about social get togethers again. What better opportunity to show off your horticultural and botanical accomplishments than a garden party?
Garden party considerations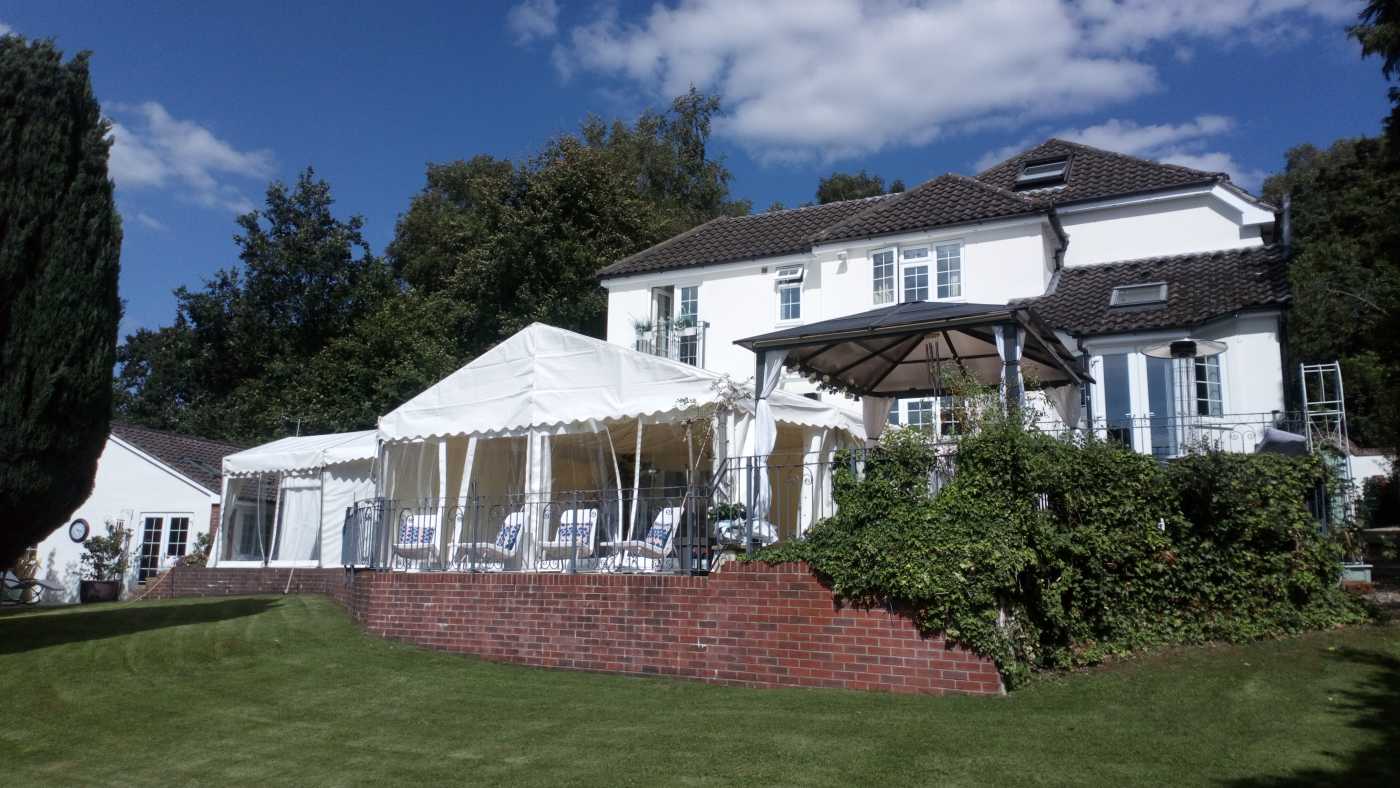 Planning an outdoor party is has always required a degree of practicality to make sure it's a success.
Nobody wants raindrops in their Rioja or a sunburn to match the red roses. Uneven ground could send guests and teacups toppling, and nobody wants canapes near the compost. Chilling out with a cocktail is one thing, feeling chilly is quite another.
If you don't have a clear stretch or lawn, you might be wondering if garden features such as ponds, pools and patios might mean garden party marquee hire isn't feasible.
As a garden party marquee hire company based in Hampshire, we're here to tell you why it's not just possible – it's a wonderful idea!
Guest numbers and safety
Of course, COVID-19 safety adds another layer of practical considerations, to make sure all your guests can socialise with minimal risk.
At the time of writing this article, up to 6 people are allowed to meet in private gardens. After 17 May, this is expected to increase to 30 people. After 21 June, the government hopes to be able to remove all legal limits on social contact, so parties will not be limited in terms of guest numbers.
Government guidelines currently advise hospitality venues that at least 50% of the marquee wall needs to be open to be considered outside, we would strongly advise your private gatherings to follow these guidelines, too.
Depending on when and where you want to throw your outdoor celebration, you'll be wondering about garden marquee hire for small, medium size and large parties….
Bijou bash (10 – 32 guests)
Pagodas, also known as Chinese or witches' hats, are the perfect option for when you need a bit of extra cover at a smaller gathering. They are available in a 3m, 5m and 6m square or 3 x 5m rectangle forms. The 3 x 3m can fit up to 10 people standing up, and the 6 x 6m accommodates up to 32 guests seated.
Styled with high peaked roof, these elegant structures can become an eye-catching focal point at your party. If modern lines, water features and oriental blooms are key elements of your garden, they will compliment that sophisticated style nicely. They can be lined if desired.
Alternatively, their smaller size means they can be a discreet addition to your main theme where some extra cover is needed.
The versatility of pagodas will appeal if you're not sure about your guest numbers yet, because we can link these structures together to form a larger marquee if required. From a safety point of view, the sides can be lifted to allow ventilation.
Medium-sized merriment (40-50 guests)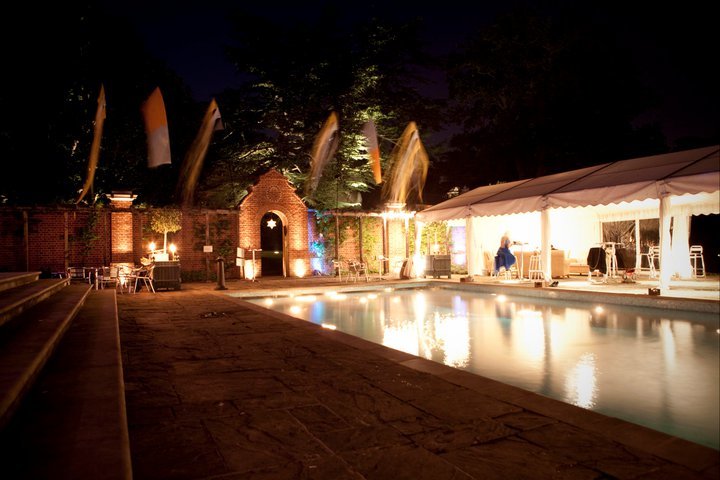 It's been far too long since we've heard that joyful sound of lots of people chatting and laughing together, hasn't it? Planning a summer garden party might conjure up visions of long sunny lunches or balmy evening dinners, featuring long tables full of delicious food – Mediterranean style.
Stretch tents are a wonderful way to show off views of your exquisite garden while still getting some protection from a spot of wet weather or strong midday sunshine.
Our smallest stretch tent is a 7.5m x 10m which is perfect for a garden party. These can fit up to 40 guests seated or up to 50 guests standing.
Instead of a single fixed point, the stretch tent allows for a variety of configurations in terms of shape and height. You can choose to have all the sides up, or a variety of some up some up and some down, allowing ample air flow.
With your garden as the stunning backdrop, décor doesn't need to be overthought. A little up-lighting or a scattering of fairy lights will create atmosphere without stealing the show.
Larger than life (75-200 guests)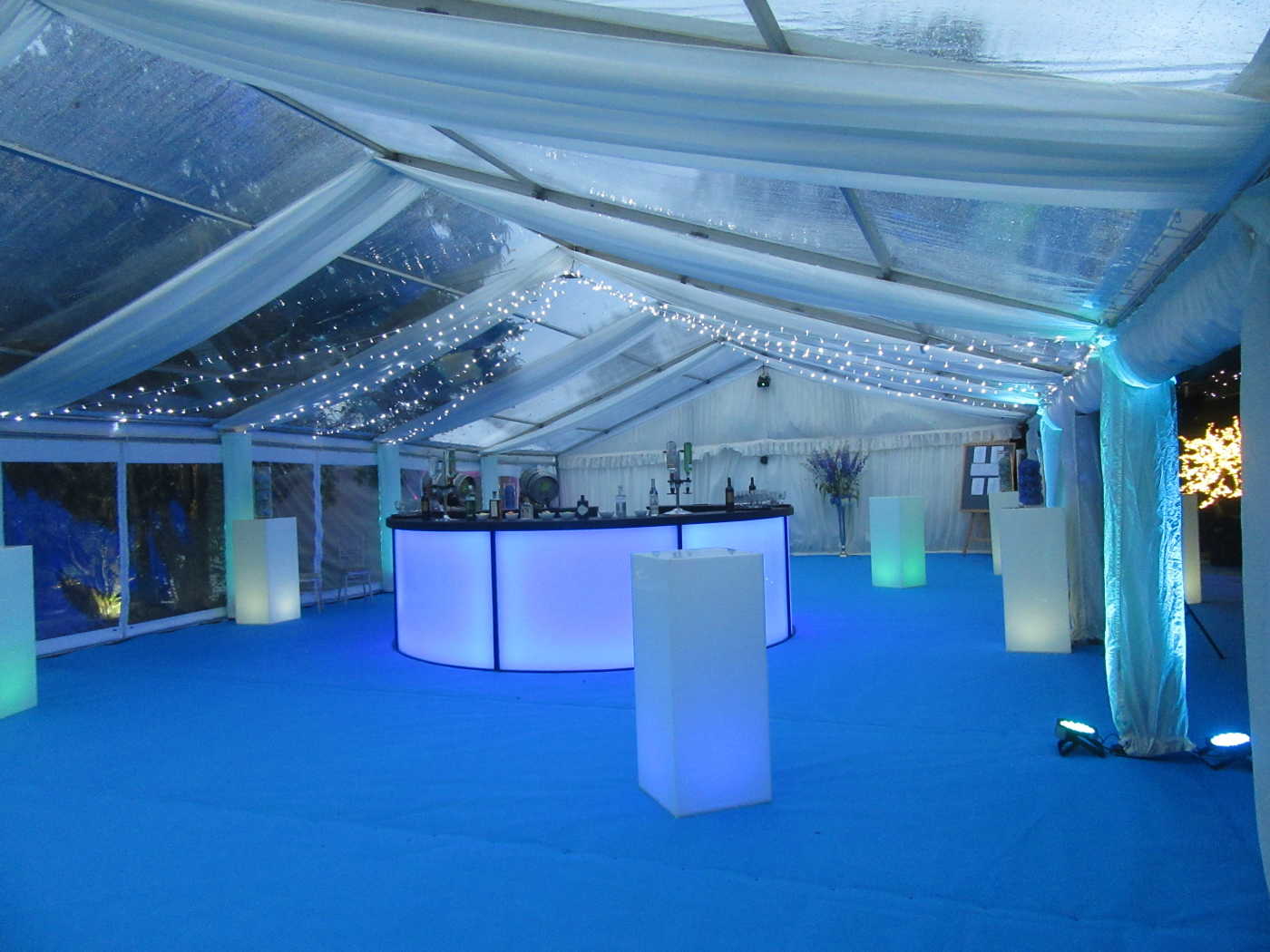 After a living party-free existence for so long, you might be approaching your summer garden party plans with the attitude, "go big or go home"!
Hopefully, numbers for social gatherings will be unlimited from late-June onwards, in which case you might want to opt for clearspan marquee hire.
Clearspan marquees are modular in nature, which means they can be designed to suit larger parties. The word Clearspan doesn't mean they have a clear roof or sides; it refers to the structure not having any supporting poles inside. They can extend to any length up to 15m and can be linked together to create different zones for dining, dancing, and catering, if required.
We can add an integral wooden floor and heating options such as patio heaters, infrared heaters, and extra-cosy indirect warm air heaters.
The plain sides of a clearspan marquee offer a canvas of infinite possibility when it comes to your party theme. You can have some sides up to reveal your garden, and others lowered. The walls and the roof can be decorated with lights, lanterns, foliage and your best of season blooms – or we can provide luxury ivory-coloured linings.
If you prefer, we can provide larger stretch tents for gatherings of this size, because that style of marquee can be joined together to create plentiful space for bigger groups of guests.
Working around tricky garden features
The expert team at Time Marquees can advise you on what will work best in your garden. Our decades of experience mean we are not daunted by quirky features! Often, we can suggest ways to incorporate them into your chosen theme. We'll always give you sensible suggestions and an itemised quote.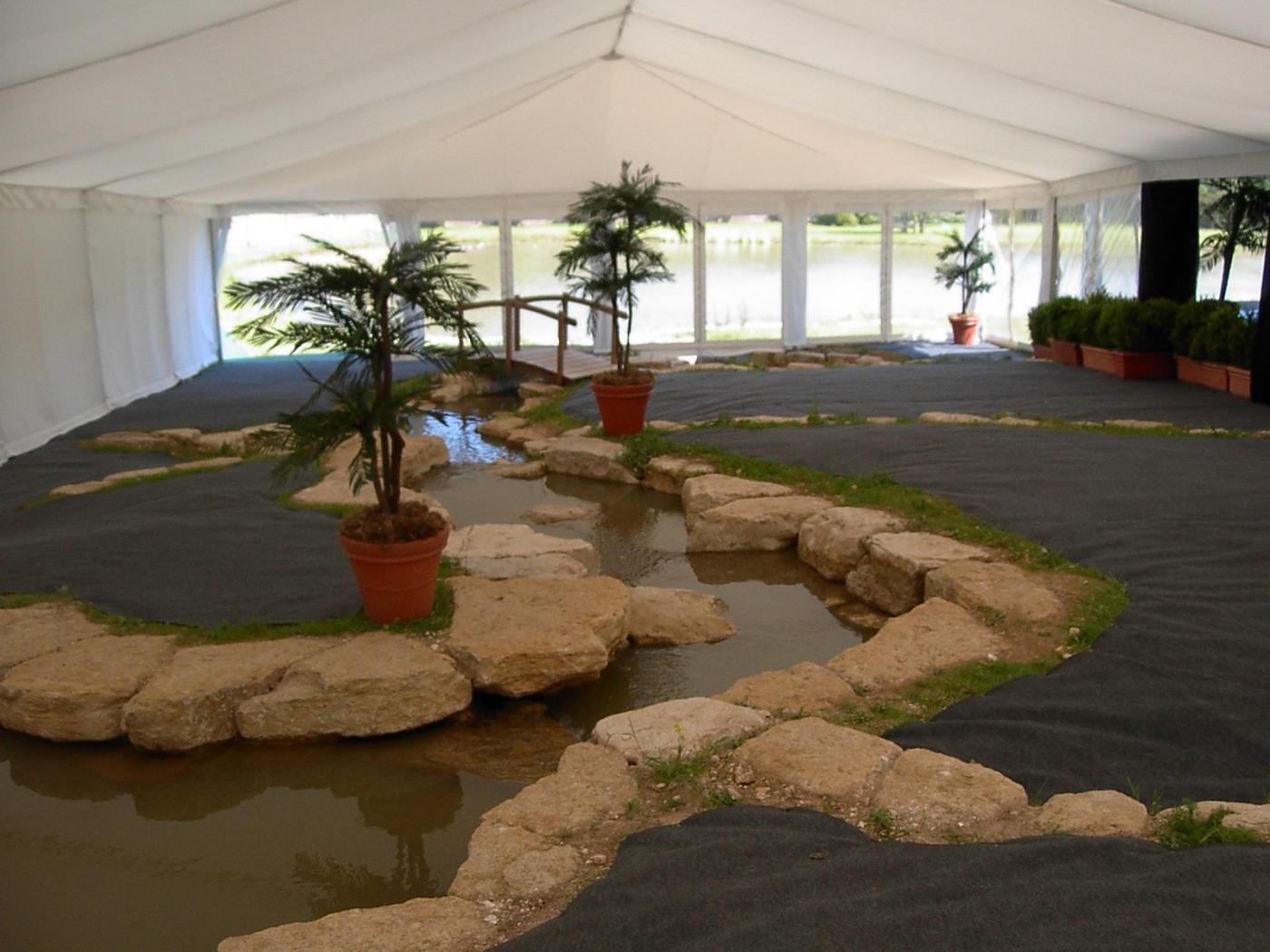 All our marquees can be placed over flower beds, bushes, small trees and ponds. We've even put one over a swimming pool, so ponds and water features won't faze us.
If your garden is on variable levels, don't worry.  Our expert team will raise the floor of the marquee to create one flat space, using a cassette floor or interlocking boarded floor with a sub floor. Marquee legs can also be extended to cover different heights.
For weekend parties, you might like to know that our structures are installed on a Thursday or Friday and removed Monday or Tuesday, allowing you the whole weekend to catch up with all the friends and family you're allowed to celebrate with – at long last.
Talk to our friendly family team about garden party marquee hire in Hampshire, Berkshire and Surrey. Call Time Marquees on 0118 973 6444 or email sales@time-marquees.co.uk