Wedding marquee reception by the pool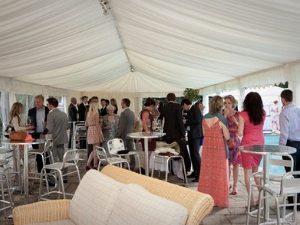 Building a wedding marquee reception by the pool was a great setting in this enclosed walled area.
You can never risk the weather so a simple roof cover, with roof linings and poseur tables, provides a purposeful open covered area for a reception.
The party went on until the early hours with a number of guests utilising the pool facility to cool down.
So as to provide a full service the Loos were positioned just outside the pool.
Regretfully we can not supply the pool!