As the curtain came up on Amy and Ben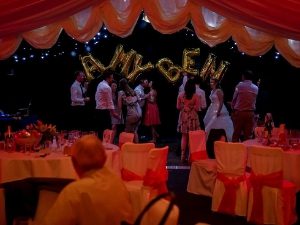 Reveal curtain opens the dance floor.
Its great to see the end result. Amy and Ben enjoying themselves as the reveal curtain went up at their wedding reception at the Crooked Billet Hook.
The marquee was built on the carpark to the rear of the Crooked Billet Hook along side the River Whitewater. We provided a level wood flooring system to give a sound surface on the uneven carpark. A lovely setting and a great day.
Another marquee wedding provided by Time Marquees and another happy couple.